February 15, 2022 - 10:21pm
United turns back Hilton, 4-2; will face Victor once again in Section V hockey quarterfinals on Thursday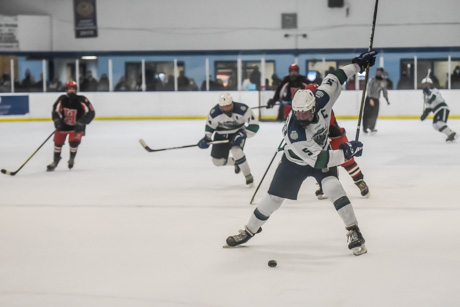 No matter how you slice it, the inaugural season of the Batavia Notre Dame merged hockey program has been a successful one. And it became much sweeter tonight before a large, enthusiastic crowd at the newly-named David M. McCarthy Memorial Ice Arena on Evans Street.
Junior forward Cooper Hamilton's goal with 5:15 remaining in the third period broke a 2-2 tie and Coach Marc Staley's United squad went on to post a 4-2 victory over the Hilton Cadets in the opening round of the Section V Class A tournament.
The win lifts the seventh-seeded BND's record to 12-6-3 and sets up a quarterfinal matchup against No. 2 Victor at 5 p.m. Thursday at the Rochester Ice Center on Lyndon Road in Fairport.
Tonight's contest featured inspired play by both teams – especially goaltenders Frank Falleti Jr for BND and Luciano Chinappi for Hilton, who time and time again came up with spectacular saves.
United fired 50 shots at Chinappi – 19 of them in the decisive third period – while Falleti turned away 31 of 33 shots by the Cadets.
Staley pointed to his team's ability to dig deep when the game is on the line as a key factor in the victory,
COMING THROUGH IN THE CLUTCH
"This team is resilient," he said. "We've been resilient all year. We've been down in the third period and we've come back to win before, and even when they (Hilton) came back and tied the game, there was no panic on our bench, none at all.
"In a pressure moment -- do or die at home and a new merged program. A lot of these kids haven't been in big sectional games before. And they did a great job executing our defensive game plan the last seven or eight minutes by keeping the clock running and getting the pucks deep."
Hilton opened the scoring 8 minutes and 19 seconds into the game when senior defenseman Rylan Searley's shot from the point went through Falleti's legs and into the back of the net. Senior forward Dominic Goodenow picked up an assist.
BND was unable to convert several good scoring chances on two power plays prior to that, and junior Noah Hudson, playing on the front line tonight due to three teammates being out with illness, was thwarted by Chinappi in front with five minutes left.
A pair of stellar saves by Falleti in the closing three minutes of the period kept the deficit at one goal.
GAVIN SCHRADER TIES IT UP
United tied it up at the 9:48 mark of period two when senior Gavin Schrader (in top photo winding up for a shot), Section V's leading scorer, deposited the rebound off the initial shot by junior defenseman Bryce Feldmann.
The home team took a 2-1 lead with 2:05 left in the period when freshman forward Jameson Motyka took a pass from freshman forward Brady Johnson, skated in alone, put a nifty fake on Chinappi and backhanded the puck into the net for a shorthanded goal.
Hilton killed off a United power play with 9:23 on the clock and four seconds later tied the score at 2-2 when Goodenow flew in from the left side and flipped a rebound past Falleti.
Four minutes later, Hamilton came through with what proved to be the game-winning goal (Motyka and Johnson assisted) and Johnson sealed the deal with 2:14 remaining by converting a pass from Motyka.
Staley said he expected a hard-fought game against Hilton, which came into the contest with a 6-10-4 record.
"They're a great hockey team; much better than their record because of the difficult schedule they play," he said. "Our plan was to stay out of the (penalty) box and to limit the odd-man rushes, although we did give up a few of those."
FALLETI, DIRISIO STRONG ON 'D'
He also credited Falleti and senior defenseman Vin DiRisio for rising to the occasion.
"Frankie was spectacular. I mean, he made four saves in that last period that were probably the difference in the game," Staley said. "And Vincent was incredible on defense. When he puts his mind to it, and stays focused on hockey, and doesn't get drawn in, he's one of the best players in the league. I think he's learning that and, now he's seeing the fruits of that labor."
Staley also singled out Schrader's ability around the net and said that Motyka's shorthanded goal triggered the loudest cheer "I've heard in this building in 10 years."
"We had a lot of great individual efforts," he said. "I thought defensively that (Andrew) Kasmarek was excellent and Feldmann was very strong in the back. We got great minutes from Bartzie (Alex Bartz), (Noah) Whitcombe and Gino Falleti.
"That's really key when we can get that third line in and they can eat 10 to 15 minutes of the clock for us. That just keeps our other guys fresh."
FACING VICTOR FOR THIRD TIME
United only gets a day or so to celebrate before facing Victor, 16-2-2, for the third time in the last three weeks. BND beat the Blue Devils, 4-2, on Jan. 27 but dropped a 9-0 decision on Feb. 3.
"I think the kids are excited to have a third crack at them," Staley said, adding that maybe Victor might be a bit overconfident coming off of the lopsided win.
"Our kids know we can beat them and we wanted another shot at them because we didn't play well last time," he said. "The beat goes on. The train keeps rolling."
Staley said sophomore forward Addison Warriner and junior forward Ryan Hamilton will not be able to play on Thursday, but he is hoping that senior forward Zack Eschberger will be available.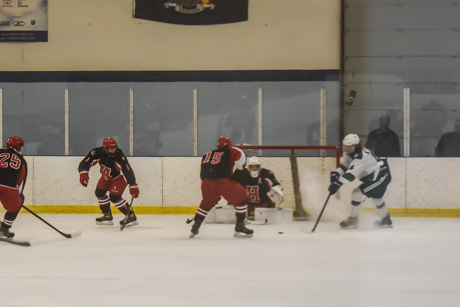 United's Brady Johnson moves in on Hilton goaltender Luciano Chinappi as Evan Fish (15) defends on the play.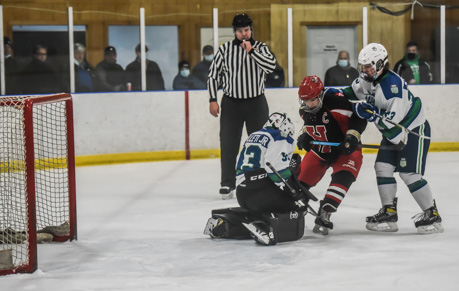 BND goalie Frank Falleti Jr. secures te puck as teammate Parker Corbelli checks the Hilton player.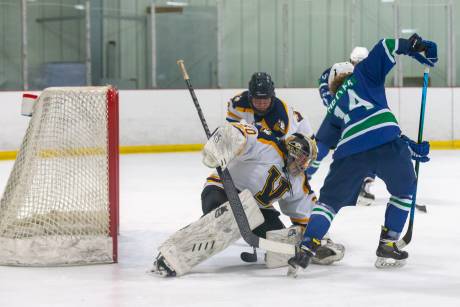 Jameson Motyka takes aim at Chinappi during the first period for BND.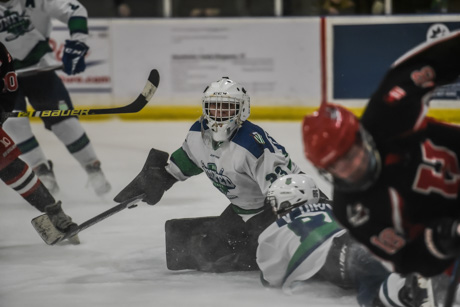 Falleti and teammate Vin DiRisio slide on the ice to prevent the Cadets from finding the back of the net.
Photos by Howard Owens.