February 7, 2019 - 8:26am
Wagner posts 'Super Sunday' win; GRUSBC Masters qualifying is Saturday
posted by
Mike Pettinella
in
Bowling
.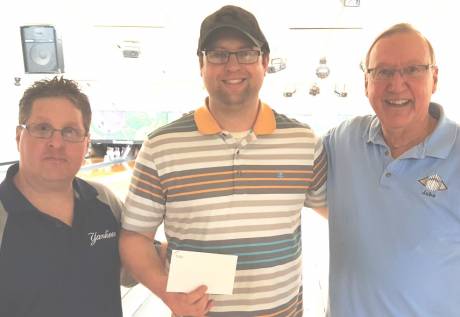 Rich Wagner, center, is congratulated by tournament director Mark Brown and runner-up John Wolff after his victory in the "Super Sunday" handicap singles tournament at Mancuso Bowling Center.
"Odds-on favorite" Batavian Rich Wagner won the first Super Sunday handicap singles tournament this past weekend at Mancuso Bowling Center. But it wasn't easy.
Wagner, the 36-year-old left-hander dubbed the "house pro" by Beat the Champ commentator Paul Peck when he competed on the Buffalo-based TV show last in 2017, captured the $280 first prize by turning back 78-year-old John Wolff (also of Batavia and also a lefty), 247-217, in the title match. Wagner spotted Wolff 40 pins due to the difference in their averages.
Prior to that match, Wagner upended high qualifier Geoff Harloff of Batavia, 246-238 (all scratch), in the semifinals, and ousted Josh Elliott of Attica, 247-198, in the opening round of match play.
The top six out of the 24 entrants made it to match play and, for a while, it didn't look as though Wagner was going to advance.
He opened with games of 234 and 207 – much less than his 248 average at Mancuso's – before firing a 279 to get back in contention. In the fourth and final qualifying game, he struck out in the 10th frame for a 226 and a 946 total.
As it turned out, he needed those three strikes in the last frame to move past three bowlers for the fifth spot.
Harloff spun 267-233-279-215 for a 991 total and Rodney Jopson of Belfast took the second seed with a 986 score. Mike Hackett of Pavilion was third at 971, Elliott fourth at 967 and Wolff sixth at 940.
Wolff, who beat Hackett and Jopson in the finals, earned $160 while Harloff and Jopson won $110 each and Elliott and Hackett pocketed $90 apiece.
MASTERS, MOUNT MORRIS TOURNAMENTS THIS WEEKEND
The 58th annual Genesee Region USBC Masters Tournament is scheduled for this Saturday and Sunday at Scopano's Lanes in Oakfield.
Kevin Gray Jr. of Warsaw is expected to defend his title in the scratch singles event, which lists four-game qualifying rounds at 10 a.m. and 1p.m. Saturday.
The top 16 bowlers will advance to the semifinals at 4 p.m. and, from there, the top eight will return at 1 p.m. Sunday for an eight-game head-to-head Peterson Points final round.
First place, based on 80 entries, is $525 plus a champion's ring. One in five will cash. The entry fee is $50.
To enter, contact Paul Spiotta at 585-202-6458.
The weather-delayed 41st annual Mount Morris Pepsi Open is set to conclude this Sunday with a pair of four-game qualifying squads (10 a.m. and 1 p.m.), followed by a last chance one-game squad for bowlers not making the cut and the eliminator finals.
First place is guaranteed at $1,500 and one in five is guaranteed to cash. The entry fee is $70.
To enter, call Mount Morris Lanes at 585-658-2540.
Medina Lanes is hosting the Valentines Luv'em or Hate'em handicap mixed doubles tournament on Saturday, Feb. 16, with three-game qualifying squads at 4 and 6:30 p.m.
First place is a guaranteed $500 and the entry fee is $55 per team.
Handicap is based on 80 percent of 440 using a bowler's highest average for the 2017-18 season (unless this season's average is 10 or more pins higher).
Twelve teams will advance to the match play finals – the top three from each squad and the next six high scores.
To enter, call Medina Lanes at 318-4474.
The 23rd annual Betty Ellison Memorial "Strike Out" for Crossroads House fundraiser is scheduled for Feb. 15-17 at Mancuso Bowling Center.
Squad times are 6 p.m. on Friday, Feb. 15; 3 and 6 p.m. on Saturday, Feb. 16, and 1 p.m. on Sunday, Feb. 17.
The entry fee is $110 through Friday and increases to $125 after that. Teams are comprised of five persons, any combination, and bowl three games on the same pair of lanes. Online registration can be completed at www.crossroadshouse.com.
For more information, call 585-993-0584 or 585-409-0136.
OAK ORCHARD BOWL TEAM LEADS YOUTH TRAVEL LEAGUE
A 219 game and 578 series by Paige Snook and a 211 game and 546 series by Tyler Brett sparked the Oak Orchard Bowl II team to a 14-10 win over Oak Orchard Bowl I in recent Genesee Region Youth Travel League action at Oak Orchard Bowl in Albion.
Ben Lennox added a 539 series for Oak Orchard II, which maintained its 3.5 point lead over Rose Garden Bowl II, which also won, 14-10, over Mount Morris.
Cameron Ecker had a 508 series for Oak Orchard I, which is in third place.
The league bowls again on Feb. 17 at Mount Morris Lanes. For complete standings and statistics, go to www.bowlgr.com and click on the Jr. Travel League tab at the top of the home page.
BISIG TEAM TAKES TOP HONORS AT HELP-R-HERO'S EVENT
The team of Ian Elliott of Le Roy, Joe Durzewski of Batavia, Mike Hackett of Pavilion and Mark Bisig of Le Roy rolled 3,247 with handicap for three games – a 270 average per man – to place first in the Help-R-Hero's no-tap tournament at Legion Lanes in Le Roy.
The fundraiser to benefit wounded soldiers returning home took place on Jan. 25-27.
The Bisig team won $800.
The Rochester-based team of Freddie Blair, Rob Carles, Amanda Schwartz and Kenny Maurer finished in second place, winning $540, while the Le Roy team of Scott O'Neill, Jeff Freeman, Dave Elliott and Bill Van Alst was third, good for $420. The top six teams cashed.
PBA TOURNAMENT OF CHAMPIONS IS UNDER WAY
AMF Riviera Lanes in Fairlawn, Ohio, is hosting the 2019 Go Bowling! PBA Tournament of Champions this week, and the finals of this PBA major event will be televised live at 4:30 p.m. Sunday on FOX.
Sixty-five former PBA National, Regional and International champions are competing in the tournament, which enters round robin match play (top 24) tonight. Participants include Brad Angelo of Lockport, Ryan Ciminelli of Clarence, Ryan Shafer of Horseheads and Anthony Pepe of Long Island.
After two qualifying rounds Wednesday, Australian Jason Belmonte holds the lead with a 2,824 total (235 average) for 12 games while Matt Ogle of Louisville, Ky., is next at 2,727, and Sean Rash of Montgomery, Ill., is third at 2,698.
The TOC will be followed by the PBA Players Championship, Feb. 12-17, at Wayne Webb's Columbus (Ohio) Bowl. The finals of the Players Championship, also a major, will be telecast live on FS1 at 1 p.m. Feb. 17.
Preliminary rounds of both events will be live streamed by FloBowling (www.flobowling.com).