October 10, 2019 - 8:22am
Youth bowling leaders reeling over USBC edicts on maximum age, minor abuse prevention training
Two announcements from the United States Bowling Congress dealing with the maximum age of a "youth" bowler and the prevention of minor athlete abuse over the past couple of months have caused a bit of a stir among local association officers and junior program leaders.
In late July, the USBC – the sport of bowling's governing body – issued a directive stating that it will be lowering the maximum age for USBC Youth membership to 18 starting with the 2020-21 season.
The decision to lower the top age from 20 to 18 impacts 3.3 percent of the current youth membership, which (in my estimation) is several thousand bowlers nationwide.
Gary Brown, managing director of youth development for the International Bowling Campus in Arlington, Texas, said the changes to USBC Youth programs and tournaments "provide a model comparable with other youth sports."
"We moved to age-based divisions, as opposed to average, for events, to provide peer-to-peer competition. Setting the maximum age for youth bowlers to 18 aligns us with the standard of other national youth sports organizations," he reasoned.
For the Pepsi Youth and Bowling.com Youth Open Championships in 2020-21, the U18 division will become the top division. Brown said the USBC will address how the age change will impact the 2021 Junior Gold Championships, which will have a separate U20 division.
The effect on hometown youth programs will be felt next season as USBC members who were 19 or 20 years old will no longer be able to compete in youth leagues and, as a result, will miss out on the potential to earn scholarships for college.
When asked to comment about these developments, Brad Buckert of Rochester, longtime youth bowling coach and tournament director (and former coach of the Rochester Institute of Technology bowling team), said he has "mixed feelings."
"I'm glad that they (USBC) appear to be waiting until the 2020-21 season to implement changes for Junior Gold, because kids would have already qualified for 2019-20 without the new rules in effect," he said. "As far as for the lowering the youth age from 20 to 18, I have mixed feelings about that."
"Is it the right thing to do because of the other sports? Bowling is sort of unique because kids can earn scholarship money to help pay for college until they are 20 as it exists now. This will be taken away.
"Does that mean that colleges will offer more scholarships to bowlers than they do now? We know that girls can be NCAA athletes for bowling and get up to a full ride scholarship. Boys do not have this opportunity because of Title IX. Not sure how that will work itself out.
"Also it forces 18-year-olds to become adult bowlers, which to me is a way for the USBC to get more money, increase its paying membership and will also stop the kids from being able to bowl in scholarship tournaments at that point. They would have to join an adult league which some people will argue there are forms of gambling going on and we know that can only hurt the kids' collegiate eligibility."
Buckert said he is upset that kids will be losing two years of (scholarship) earning power and worries that once they turn 18, that these young people will leave the game.
"We all know we can't afford to lose any more membership in our sport and maybe the kids won't join Adult leagues -- and then they could be gone."
The second announcement that I referred to in the opening paragraph requires any USBC Youth member who reaches the age of 18 during the bowling season to complete the U.S. Center for SafeSport online education program, which is free, to continue to compete in leagues that have participants under age 18.
Katrina Smoot, rules coordinator for USBC, said she has received a lot of feedback – much of it negative – about this rule.
"What our members are more concerned about is the SafeSport policy, per federal law, that requires any adult 18 and older competing in a USBC league with minors 17-and-under must complete the SafeSport training and the officers of the league must complete the Registered Volunteer Program background check process," she said.
A perfect example of this is an Adult-Child League where all those 18 and over would be required to take the two-hour online course through bowl.com. The course is free to all USBC members from 2018-19 or 2019-20 through Dec. 31, 2019.
Smoot said the USBC's appeal to the U.S. Center for SafeSport to be exempt from these requirements due to the unique structure of league bowling was denied.
"We tried to explain that our programs are a little different than other sports, but we were told that we have to comply just like other sport national governing bodies," she said. "We will continue to try to talk to them and monitor policy that may be changing, but for now, this is the way it is."
The SafeSport training for 18-and-over bowlers doesn't pertain to tournaments, although the tournament manager where minors are participating must go through the RVP screening and the SafeSport online training.
Additionally, all officers and directors on USBC state and local boards of directors are required to be RVP and SafeSport-certified.
Topics covered through the SafeSport Trained course include mandatory reporting, sexual misconduct awareness education, and emotional and physical misconduct.
For more about the RVP and SafeSport policies, go to bowl.com, scroll over the Youth tab at the top of the page and click on Registered Volunteer Program.
--------------------------------------------------------
TWO GRUSBC BOWLERS CASH IN BROCKPORT EVENT
Albion's Reid Cole and Batavia's Paul Spiotta were among the "cashers" Sunday at the first Tommy Kress 60-and-Over Singles Tour event at Brockport Bowl.
Spiotta qualified in the fourth position following an 872 four-game total while Cole was the No. 9 qualifier with 839. Twelve of the 41 entrants advanced to the eliminator rounds.
Both local keglers were eliminated in the first round (one game) as they failed to place in the top six.
Mike Feola of Rochester took top honors, qualifying fifth with 869, before going on to roll games of 206, 205 and 230 in the eliminator rounds. John Danielewicz of Sanborn placed second and Gary Kinyon of Lockport was third.
Rose Garden Bowl in Bergen will host the next tournament on Oct. 27. Kress announced that there will be two squads – 10 a.m. and 12:30 p.m., with a three-game qualifier.
For more information or to enter, contact Kress at [email protected].
GR YOUTH TRAVEL LEAGUE SCHEDULE RELEASED
The Genesee Region Youth Travel League gets under way this Sunday with competition set for 12:30 p.m. at Mount Morris Lanes.
The league has eight teams this season, representing Mancuso Bowling Center in Batavia, Mount Morris Lanes, Oak Orchard Bowl in Albion, Rose Garden Bowl, Legion Lanes in Le Roy and Perry Bowling Center.
The schedule is as follows. Bowling starts at 12:45 p.m., except for this Sunday.
-- Oct. 13, Mount Morris Lanes
-- Oct. 27, Mancuso Bowling Center
-- Nov. 10, Oak Orchard Bowl
-- Dec. 1, Rose Garden Bowl
-- Dec. 15, Legion Lanes
-- Dec. 29, Rose Garden Bowl
-- Jan. 19, Oak Orchard Bowl
-- Feb. 9, Perry Bowling Center
-- Feb. 23, Mount Morris Lanes (no-tap and banquet)
LOCAL BOWLING SPONSOR AWARDS GRANTS TO THREE CHILDREN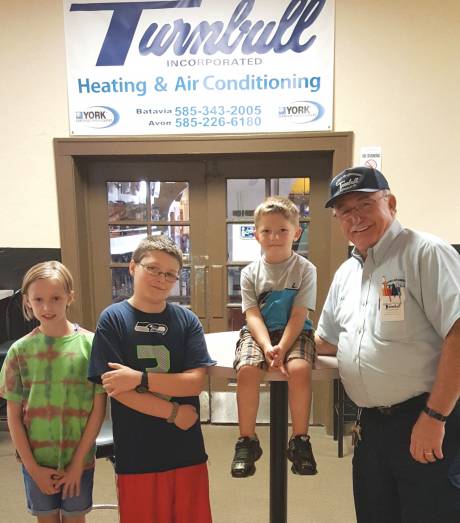 Bill Hayes, sponsor of the Turnbull Heating Junior League at Mancuso Bowling Center in Batavia, congratulates (from left) Elianna Shisler (Prep division), Jaydon Winspear (Junior-Senior division) and Jeremy Summers (Bumper division) after they were selected in a random drawing to win a free season of youth bowling courtesy of Turnbull Heating.
CASTING MY HALL OF FAME VOTE FOR TOMMY JONES
I received my invitation earlier this week from the Professional Bowlers Association media relations staff to cast my vote for the Hall of Fame.
This year, only one member is eligible, that being Tommy Jones of Simpsonville, S.C., 41, a PBA member since 2000.
It didn't take me very long to return the email with the word "YES" as, without a doubt, Jones is worthy of enshrinement. The ceremony is scheduled for Jan. 18 as part of the PBA Hall of Fame Classic tournament weekend at the International Bowling Campus in Arlington, Texas.
Jones, a high-revving right-hander, has amassed $1.7 million in prize money over his 19-year career with 19 PBA regular tour titles and another 13 PBA regional titles. He has two major championships on his resume – the 2006 U.S. Open at North Brunswick, N.J., and the 2007 PBA Tournament of Champions in Uncasville, Conn.
Ranked in 2009 as No. 30 on the list of PBA's 50 greatest players, Jones was selected as the Harry Golden PBA Rookie of the Year in 2001-02 and earned the Chris Schenkel PBA Player of the Year award in 2005-06.
LOCAL TOURNAMENTS ON THE HORIZON
Saturday, Oct. 26 – GRUSBC Handicap Bracket Challenge, Mancuso Bowling Center
Saturday, Sunday, Nov. 2-3 – GRUSBC Gladys Ford Senior Women, Perry Bowling Center
Sunday, Nov. 3 – GRUSBC Senior Masters, Mount Morris Lanes
Sunday, Nov. 10 – Rochester/GRUSBC BVL, Pleasure Lanes, Hilton
Saturday, Nov. 16 -- Brian Morasco Memorial 3 –person handicap, Mancuso Bowling Center
Sunday, Nov. 17 -- Triple O Mechanical Handicap Singles, Rose Garden Bowl, Bergen