September 24, 2018 - 9:53pm
Youth Bureau, YMCA seek to operate 'Teen City' program at former St. Anthony's School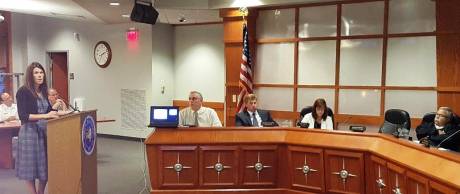 Batavia City Council is prepared to enter into a partnership to develop Teen City, an afterschool program for kids from the ages of 9 to 16 to be housed at the City Church-owned St. Anthony's campus on Liberty Street.
The board, at its Conference meeting tonight at City Centre Council Chambers, reacted positively to a presentation by Jocelyn Sikorski, executive director of the City and Genesee County youth bureaus, by agreeing to let her and Acting City Manager Matt Worth continue their negotiations with City Church to move the City Youth Bureau from its present MacArthur Drive location.
"(The former St. Anthony's School) gives us much more space than we could have ever imagined," Sikorski said, explaining that the youth bureau staff will be working with the Genesee Area Family YMCA to provide a setting that "will incorporate active play, educational space, and health and wellness while fostering community service."
Sikorski (in photo above) said St. Anthony's would offer a classroom/tech room, recreation room, gaming room, cafeteria, kitchen and full gymnasium during program hours, which are set at 2:30 to 6 p.m. from Monday through Friday during the school year and 1 to 6 p.m. during the summer.
The youth bureau and YMCA have secured more than $110,000 thus far, she said, with the United Way of Genesee County pledging $50,000 for renovations and start-up and an additional $10,000 annually for five years to maintain the program.
Bullet Aid ($30,000), Greater Rochester Health Foundation ($17,600), Ralph Wilson Legacy Funds ($11,000) and Rotary Club of Batavia ($5,000) also are supporting the project, Sikorski said.
The plan is contingent upon the facility being rezoned from residential to commercial, a process that has moved along and will be determined by a vote of the City Planning & Development Committee.
Other things that need to be done before the program starts include information technology upgrades, renovations in line with Americans with Disabilities Act requirements and a security policy to be "modeled after the Batavia City School District's," Sikorski said.
City officials have begun to talk about a lease agreement with City Church, but no terms have been reached yet, Worth said.
 "We haven't really had that defined yet. We've had very front-end conversations on how the structure might be, but the actual financial parts of it have not been nailed down yet to give specific numbers," Worth said, adding that necessary investments by City Church will weigh into the terms.
The ultimate goal, he said, "is for it to be a net-zero cost (to the City) compared to how the youth bureau is being operated now."
Worth said that if the City School District opts to use the existing Youth Bureau, leasing terms for that site would be negotiated.
"(The district) could take over the utilities, something like that," he said. "But that's too much detail from where we are at the moment. Hopefully, in a month from now I would have a better answer."
Council Member John Canale said his idea would be to "convert it (the current Youth Bureau) back to a pool house and put the (City) pool back in there."
Sikorski said the timeline is one "you may call ambitious" as they hope to have Teen City opened by January.
In other action, Council moved the following measures to its Business meeting on Oct. 9:
-- A resolution to continue stipends above and beyond their normal salaries to Worth, James Ficarella, Ray Tourt and Lisa Neary through the pay period ending Jan. 4. All four have taken on additional duties during the months the City has been without a manager or assistant manager.
Worth would continue to be paid a stipend of $1,000 per month, while Ficarella (superintendent of water and wastewater), Tourt (superintendent of maintenance) and Neary (deputy director of finance) would keep getting a $750 stipend.
Council Member Robert Bialkowski called their effort "a bargain."
"Since we haven't had a manager or assistant manager, it really isn't costing the city taxpayers," he said.
His colleague, Rose Mary Christian, however, looked at the request differently, saying she opposed extending the stipends past October – the month that new manager, Martin Moore, assumes his duties.
She was the only one to oppose the extension as the rest of the group agreed that two additional months would be needed to ensure a successful transition.
-- Two resolutions dealing with City Fire Department programs – the implementation of an external Emergency Medical Technician class to be offered on an annual basis and the acceptance of a $1,500 state grant to continue a child safety seat initiative.
Fire Chief Stefano Napolitano said there about 27 people who wish to take the class, which is designed to train citizens interested in becoming EMTs for their own personal benefit as well as those who offer their services to other fire, rescue or Emergency Medical Service agency.
Napolitano requested a budget transfer of $15,000 to deliver the class, and said he expects that tuition fees will return that amount and likely $4,000 more back to the City.
-- A resolution to solicit bids to repair the silo entries of the City Centre Mall and segments of the roof near Sunny's Restaurant and the hallway adjacent to City Hall.
The repairs are part of the settlement agreement between the City and Mall Merchants Association.
"These two areas (of the roof) are where the vast majority of the proverbial buckets are sitting," Worth said.