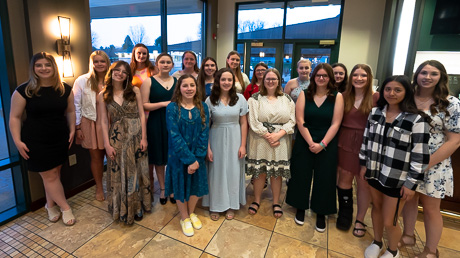 There's one evening each year that parents enjoy because it highlights the efforts of their children, and that youth and school leaders proudly attend because it's an opportunity to boast a bit about the talents, kindness, volunteer and myriad other contributions that students have made to their communities.
And finally, it's an evening that kids can feel good about by being given the spotlight for those who, as Board President Paul Osborn says, "shared the love and compassion with their hearts to benefit others."
"This community is truly blessed. Our future is bright with the youth you see before you. If you look at the back of your program, you all exemplify these characteristics as an honor to be a part of the youth board and serve with individuals who share a passion for a community, and, most importantly, our youth. Tonight, I am confident we leave here knowing there is hope and promise for the future because of those recognized here," Osborn said during Thursday's youth recognition banquet. "So, all those recognized here tonight, I extend my heartfelt appreciation to you and all those who have supported your efforts. I would especially like to acknowledge the parents, the guardians and extended families of the youth recipients. I'm sure you are proud, and rightfully so. But you all need to be commended for providing the guidance and care that has prompted these youth to rise to a level deserving of recognition.
"I would also like to thank the families and spouses and significant others of our adult award recipients for their unselfish willingness to share your loved ones who provide a great service to our youth and community," he said. "So thank you all for coming and sharing this moment to recognize all the recipients this evening."
There were 25 youths presented with youth recognition awards. They are:
Brecken Capone
Caris Carlson
Mary Engelhardt
Katelynn Everett
Gabrielle Graff
Mary Grimes
Lily Haacke
Aubrey Hamm
Kaelee Kelso
Alaina Manges
Kathryn McClellan
Arianna McLaughlin
Maggie Monachino
Brenna Munn
Evelyn Northrup
Cesia Murillo Rios
Lauren Reimer
Olivia Walton
Maia Zerillo
Another six students received Winter Storm Elliott awards for their selfless service to others during that wintry blast and dumped several inches of wind-drifted snow on Genesee County Dec. 22-Dec.25, 2022.
Elba School Superintendent Gretchen Rosales spoke about the winter storm that "I'm sure we all remember with great fondness," she joked. Of course, that was the long Christmas weekend that began with a bang that forced the city of Batavia and Genesee County to close and then followed by the closure of the Thruway.
"I had six students who gave up their own time, our schools as opened as a warming shelter, and I do believe that it is because of those students in the Elba Fire Department that lives are saved," Rosales said. "And so this is a profound recognition of those students. When the rest of the community was stranded, these young individuals left the comfort and warmth of their homes to save others' lives. During the storm, each of them went to the school to provide blankets, serve meals, set up cots for sleeping, kept strangers company, checked on the well-being of others, and even put on movies for children who were spending Christmas away from home."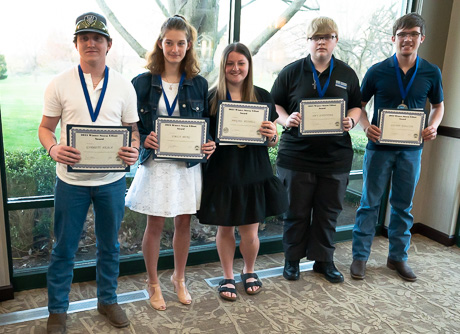 She went on to state the other good deeds they do on a regular basis: shoveling out hydrants and plowing driveways and sidewalks, while quietly going about their work.
"When not contending with an epic storm event, these students dedicate between five and 15 hours each week to our fire department to engage in training to respond to calls alongside their adult counterparts. They render first aid to accident victims, fight fires and provide emergency response in medical situations," Rosales said. "These young adults represent what is good about our youth. They are fine examples for everyone, no matter their age. They are athletes. They have part-time jobs, and they are on the honor roll."
Perhaps most important to note, is that their bravery and selflessness are "commendable beyond measure," she said. Rosales then called them up for their awards:
Ayden Esten
Garrett Heale
Emily Hoag
Abigail Russell
Joey Schnitzer
Colton Walczak
Two adults were also recognized for their contributions to youth — Youth Worker of the Year went to Robert "Bob" Swanson, and Volunteer of the Year went to Kathy Zipkin and Tilly, her gentle four-legged sidekick.
SOAR Director Christine spoke about Zipkin's positive influence on children's reading work in their city schools. Beyond school work, however, there has been so much gained from the social and emotional connections made through sweet Tilly.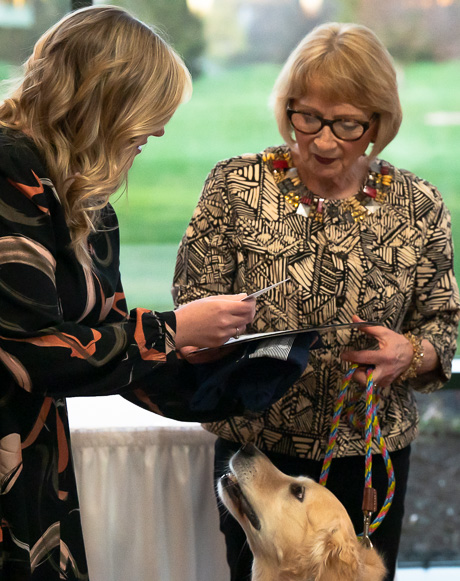 "So in terms of emotional regulation, in terms of support, in terms of compassion and love, and providing that, that calm no judgment zone, we are so grateful to have Kathy as part of our district, and we are so grateful to have Tilly as well — it literally is part of the best part of my week as well," Merle said. "So we're amazed and appreciative she's willing and able to spend a day and a half each week with our students at Batavia, although the students may come down to see Tilly, their interactions with Kathy are just as important. Her years as a teacher in our district have given her the knowledge, experience and understanding needed to work with our kids and we're very grateful for that."
Robert Swanson, better known by kids at Agri-Business Child Development as Bob the Builder, has worked there for more than 10 years as a maintenance man, but award presenter Elizabeth Ormsby said, "he's much more than that."
"He goes above and beyond his job duties and truly integrates himself into many different areas of the program. He works closely with all the administrators, teachers, children and families. He has become a father figure to many of us workers. I call him my work dad. But he's a strong male role model for the children in the center as well," Ormsby said. "Bob remembers all of the children's names and comes in and has conversations with them every day. You know when Bob is in the building because you hear all the children cheering, 'Bob is here, Bob is here.' Since he has maintenance, he spends a lot of time fixing things. So many of the children have started to call him Bob the Builder. He will come and read stories to our classrooms. And during the holidays, he likes to dress up festive for the children.
"Bob has also volunteered his time to create, in partnership with families and children, our vegetable garden on our playground. The produce is harvested and given to families or cooked here at our center," she said. "Anything a family needs, he is there to assist them, whether to blow up a flat tire in the parking lot, helping with moving or donating food. He is such an asset to the team, but especially to our children and our families."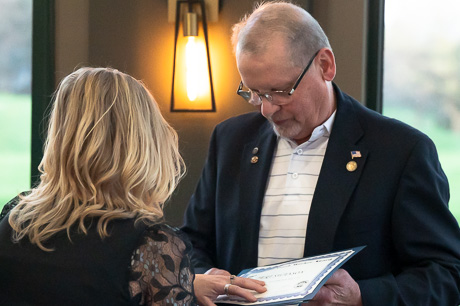 Osborn also gave well-deserved kudos to an outgoing Youth Board member, for most years serving as president, Jay Lazarony. During his 26-year service on the board, "Jay has been a mainstay in the field of youth services," Osborn said. Known as Mr. Laz by the youth he impacted over the years, Lazarony was not only an idea guy but also helped to bring them to reality, such as by designing a mini park, picking out plants, determining the mulch and size of picnic tables. He developed the GLOW With Your Hands program, and thousands of kids have stretched their potential as a result, Osborn said.
"Our youth have been blessed. Thank you for your time and efforts, and most of all, your love for the youth in the community, Mr. Laz."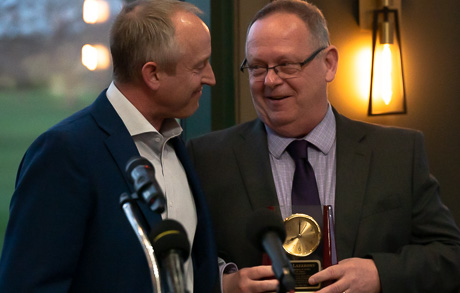 Photos by Howard Owens.