Image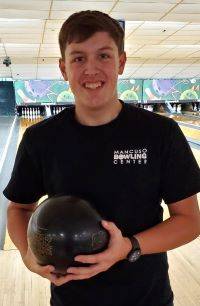 Batavia High School senior Benjamin Sputore on Saturday morning became just the seventh United States Bowling Congress-certified youth bowler in Mancuso Bowling Center history to roll a 300 game in league competition.
Competing in the Batavia Youth League, Sputore (photo at right), a 17-year-old right-hander, finished his three-game series with 12 consecutive strikes on lanes 11-12.
The perfect game capped his first 700 series ever, following games of 221 and 199 for a 720 total.
Despite putting the first nine deliveries squarely in the 1-3 pocket, Sputore, son of Mancuso Bowling Center Manager Mike Sputore of Batavia and Julie Hawley Paradowski of Oakfield, said he wasn't overly confident heading into the 10th frame.
"I expected to leave a 10-pin somewhere in the 10th frame," the soft-spoken teen said, acknowledging that he was "pretty nervous."
Using a Storm Dark Code ball that he switched to after the second game, Sputore was equal to the task, however, as he put the ball in the pocket on each of the final three shots on lane 11. The last ball was a bit light in the pocket, but it threw the 5-pin into the 7-pin for the 300.
Sputore's 300 game comes five years after his father rolled a perfect game at Mancuso's (on Oct. 21, 2018) and eclipses his previous high game of 278.
He has been bowling in the youth program at Mancuso's since the age of 6, and also bowls in the T.F. Brown's Adult-Child League and in the Genesee Region USBC Youth Travel League, where he averaged 193 last season. He also works part-time at the lanes.
Sputore joins Mike Pettinella, Jerry Geissler, Rich Wagner, James Walker, Jordan Fluker and Tony Sprague on the list of youth bowlers with certified 300 games at Mancuso's.
In Genesee Region USBC adult league action this week:
Warsaw left-hander Kevin Gray Jr. kept the hot hand in the Thursday Owls League at Rose Garden Bowl in Bergen, posting a 297 game en route to a 735 series. Righty Harris Busmire of Bergen took top honors for the night with a 752 series.
Wagner came up with two strikes and nine pins in the 10th frame of game three to carve out a 234 triplicate in the Toyota of Batavia Thursday 4-Man League at Mancuso's.
Curtis Foss of Medina led the way in the Sneezy's Monday Night League at Oak Orchard Bowl in Albion with a 278 game and 760 series.
Hayden Allis topped the list in the Sunday Rolloffs League at Medina Lanes with a 258 game and 709 series. Allis posted a 300 game and 765 series in the Wednesday Community League on Oct. 11, four days after getting married. Other recent high scores by Medina bowlers include Alex Allis' 299 in the Wednesday league on Oct. 4 and Jim Foss' 300 game at Airport Lanes in Buffalo on Sept. 29.
Gary Macomber of Dalton, 70, registered his first perfect game on Oct. 8 in the Sunday Night Merchants League at Mount Morris Lanes. 
For a list of high scores, click on the Pin Points tab at the top of the home page.