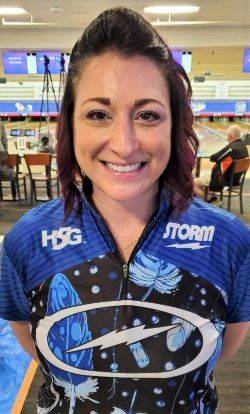 Amherst native Lindsay (Baker) Boomershine is back in Western New York this week with loads of confidence as she competes in the U.S. Women's Open at ABC Gates Bowl.
Boomershine, a 37-year-old right-hander who moved to Utah in 2010, is less than a month removed from winning the United States Bowling Congress Queens tournament – her first victory in eight years on the Professional Women's Bowling Association Tour.
She is one of the favorites at the U.S. Women's Open, which runs through Tuesday night at the 48-lane center on Spencerport Road.
In an interview with The Batavian following Friday's second of three eight-game qualifying blocks, Boomershine said that capturing the Queens – a PWBA "major" that carried a $60,000 top prize – was a culmination of the countless hours of work she invested into her game.
"I worked really hard on releases and my spare game – with the release part it was all about being able to bowl on everything from urethane to hook it to lofting it to throwing it slower," she explained. "Now, all of those things are pretty successful. I can do numerous tricks to try to get my ball to go through the pocket in the right way."
Boomershine said she also made some changes "physically," working with her husband, Hank, who is vice president of sales for Storm (Bowling) Products.
"Things have really worked out," she added. "When you apply it to these situations with the best women bowlers in the world, you know, it feels pretty good that what you we're doing in the offseason has paid off for this season."
At the Queens tournament in Las Vegas in May, Boomershine was among the leaders throughout the week and earned the No. 1 seed for the televised stepladder finals. She needed just one victory for the crown and she came through, defeating her close friend, Maria Jose Rodriguez, 202-176.
When asked if she felt added pressure as the tournament leader, Boomershine said she "really, honestly just played my game."
"I made some difficult spares, just like I had all week, and I struck out in the 10th frame. It was awesome. I couldn't have had it any other way."
Boomershine said her uncle, PBA and USBC Hall of Famer Tom Baker, is one of her biggest fans. He was instrumental in helping his niece become a standout bowler at Sweet Home High (she's in the school's Hall of Fame) and a four-time All-American at the University of Nebraska-Lincoln (including collegiate Player of the Year in 2005-06).
"I talk to my uncle all the time," she said. "He's still bowling in the senior (Senior PBA) stuff and lives in King, North Carolina with Donna. He always checks in on my bowling. When I won the Queens, he said the Baker family always wins the big ones because he won the PBA World Championship (in 2004)."
After two of the three qualifying rounds of the U.S. Open, which are contested on three different and challenging oil patterns, Boomershine – who rolled a 300 game on Thursday -- sits in 22nd place out of 108 bowlers with a 16-game total of 3,296 – a 206 average.
Birgit Noreiks of Germany is in first place with 3,625, followed by Dasha Kovalova, Muskegon, Mich., 3,510; Diana Zavjalova, Latvia, 3,505; Shannon Pluhowsky, Dayton, Ohio, and Shannon O'Keefe, Shiloh, Ill., 3,420; Missy Parkin, San Clemente, Calif., 3,401; Bryanna Cote, Tucson, Ariz., 3,392; Liz Johnson, Niagara Falls, N.Y., 3,390; Kelly Kulick, Union, N.J., 3,382, and Verity Crawley, England, 3,370.
Several WNY bowlers, including Heather Ray of Caledonia (75th place, 2,998), are competing in the tournament.
The top 36 bowlers after today's qualifying round will advance to the cashers' round (another eight-game block) on Sunday morning.
The tournament schedule:
Today -- 8 a.m. – 10 p.m. – Qualifying (three squads each bowl eight games, cut to top third of the field – 36 bowlers.
Sunday -- 10 a.m. – Cashers' Round (one squad bowls eight games, cut to top 24 players); 5 p.m. – Round-Robin match play (one squad bowls eight games).
Monday -- 10 a.m. – Round-Robin match play (one squad bowls eight games); 5 p.m. – Round-Robin match play (one squad bowls eight games, cut to top 5 players).
Tuesday -- 7 p.m. – Live stepladder finals on CBS Sports Network.
For more information about the U.S. Women's Open, visit BOWL.com/USWomensOpen.