September 29, 2013 - 11:10pm
Irish Run Well at McQuaid
The Notre Dame XC team participated in the 49th annual McQuaid Invitational on Saturday.  The meet featured over 7,000 runners from over 245 schools representing 5 states and Canada. The modified boys led the day off with Tyler Fuller finishing 166th with 12:13 and Trevor Nellis 176th in 12:18.  Chris Neal placed 254th in 14:34.
The varsity boys then took to the 3 mile course with Dylan Fix breaking out to finish 69th for the Irish in 18:03.  Ryan Fuller placed 115th with 18:47, Justin Carlson 168th in 19:41, one shoe wonder Dennis Bleier 194th in 20:05 and rounding out the scoring was Bryan Moscicki in 217th with a 20:36.  The Irish placed 30th in the 42 team field.  Caleb Nellis placed 255th with a huge PR of 21:40 and Ryan Shormann placed 304th with a big PR of 24:53.
The girls team placed 16th in the 26 team 'seeded' race.  Laurie Call led the Irish placing 26th with the second fastest ever ND time of 19:12 and Anna Warner ran the third ever fastest ND time of 19:30 and placed 33rd.  New faces represented the third and fourth runners as Serena Strollo-DiCenso and Isabelle Bliss had an amazing race to place 112th and 113th respectively with times of 21:38 and 21:39.  Shelby McGinnis rounded the scoring out for the Irish with her 129th finish of 22:07.  Abby Bleier placed 142nd with 22:27, Emily McCracken 161st with 23:21, Rose Flumerfeldt 183rd with 24:43 and Emily Sherman 202nd with 27:23.
The Irish are next in action on Tuesday against Holley, Keshequa, and Geneseo at Holley's Canal Park.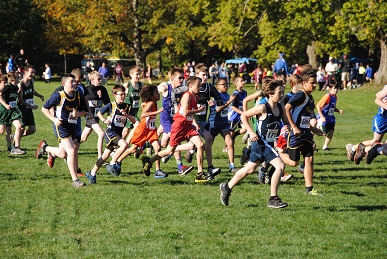 Modified runners Chris Neal, Tyler Fuller and Trevor Nellis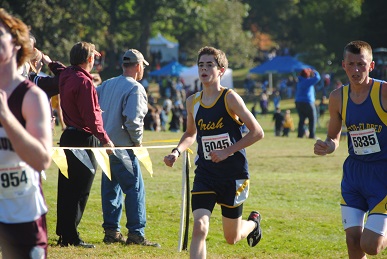 Dylan Fix leading the Irish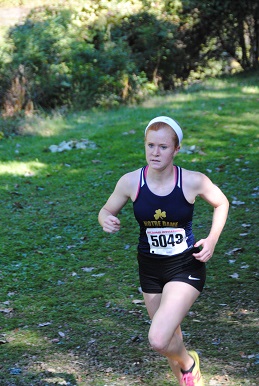 Laurie Call nearing the 2-mile mark