March 6, 2016 - 11:57am
Blue Devils come tantalizingly close to berth in final four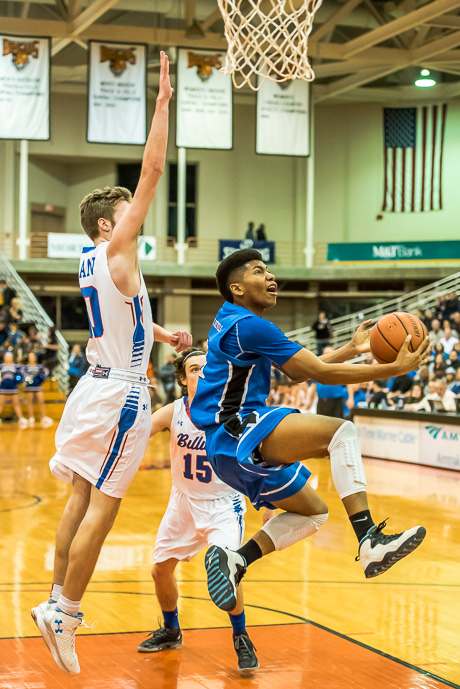 Batavia is no stranger to Far West Regional games. The Blue Devils have been to a few under Head Coach Buddy Brasky, including a thriller against Olean in 2013 that saw Jeff Redband's game-winner find itself on a SportsCenter Top 10 on ESPN.
Not many imagined that Batavia would be playing in a Far West Regional game this year, but the Blue Devils were indeed there, taking on a Williamsville South squad that saw its season come to an end in that very game last year.
The Billies came in riding a 13-game winning streak and were seemingly a heavy favorite to win, but Batavia withstood everything its opponent had to throw at them, holding a one-point lead late in the game.
Williamsville South, like a championship team does, rose to the challenge as Jordan Buell knocked down a three-pointer with 10.2 seconds left to give his team a two-point lead.
Batavia had one more crack, and chose to get the ball to a fifth-year varsity player, Malachi Chenault -- the only holdover from the 2013 team -- but the ball was knocked away and Brasky felt his player was fouled.
The call was not made and Williamsville South escaped with a 53-51 lead, ending Batavia's season at Buffalo State College on Saturday night (March 5).
"Did he get thrown to the ground or didn't he?" said Brasky when asked about the play after the game.
Midway through the third quarter it didn't seem like the Blue Devils would even be in position to have such a call matter late in the game.
Leading by six at halftime, Williamsville South exploded out of the gates, using an 11-3 run -- capped by a one-handed dunk by Graham Dolan -- to take a 14-point lead. It seemed like the Billies were going to cruise to Glens Falls, but Batavia was not ready to go down without a fight.
The Blue Devils went on a 13-4 run to end the third quarter down by just five points...and then T Sean Ayala took over.
The sophomore went 0 for 7 in the first half, scored seven points in the third quarter and then went on to score 13 of his game-high 20 points in the fourth quarter.
"It was just a matter of me feeling it," Ayala said. "I just told myself to come out and lead the team as best as I can because I'm the best shooter on the team."
Ayala would help lead Batavia all the way back and eventually they took a 51-50 lead on a Chenault free throw with 1:16 to play.
The Blue Devils had a chance to increase the lead but Chenault missed the front end of a one-and-one and Williamsville South grabbed the rebound.
The Billies were looking to use a play that had previously gotten star point guard Greg Dolan into the lane successfully, but Batavia closed it off, forcing them to kick it out and eventually it fell into the hands of Buell for the game-winner.
"We ran a play that had worked twice in a row for Greg to get in the lane and they guarded it very well," Williamsville South Head Coach Gabe Michael said. "But Jordan is always in that backside corner so it's hard to get over to him if we work the ball and Myles [Hall] did a nice job passing that shot up to get Jordan wide open."
It was just Buell's second basket of the game and Batavia was ultimately unsuccessful in tying or taking the lead on its last possession, regardless of the foul or non-foul call.
Hidden in the spoils of defeat was the fact that the Blue Devils battled back from a double-digit lead in the second half to eventually take the lead and put themselves in position to win the game late.
"In my 25 years coaching, in the fourth quarter, that's the most heart I've ever seen a team show," Brasky said.
Greg Dolan had team-high 17 points, six rebounds and six assists while his older brother Graham had 16 points, eight rebounds and two blocks for Williamsville South (21-3).
Chenault scored 12 points and grabbed five rebounds while Trevor Sherwood had eight points and 14 rebounds in their final high school games for Batavia, which finishes 17-8.
Twitter: @SabatoNick
Video of controversial play at close of the game (by Nick Sabato):
Photos by Howard Owens.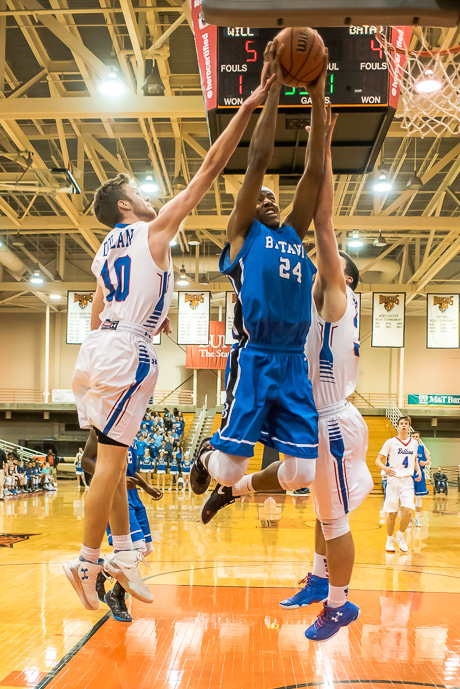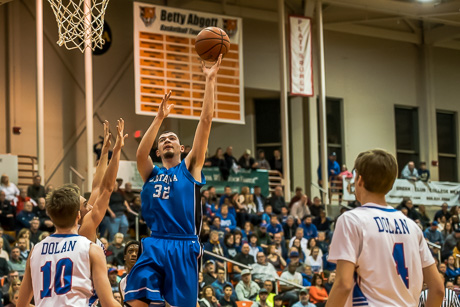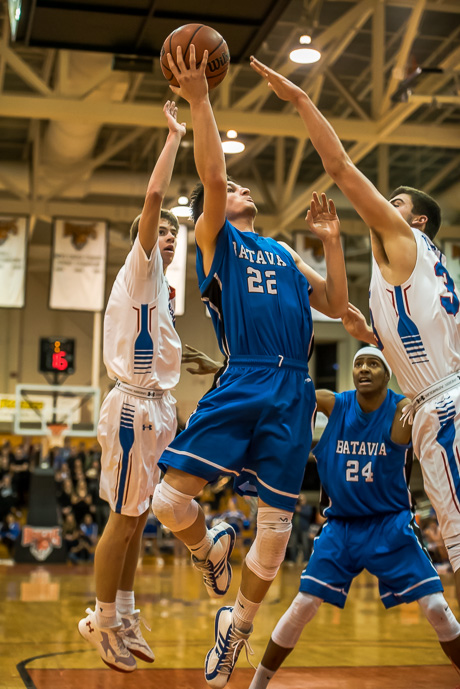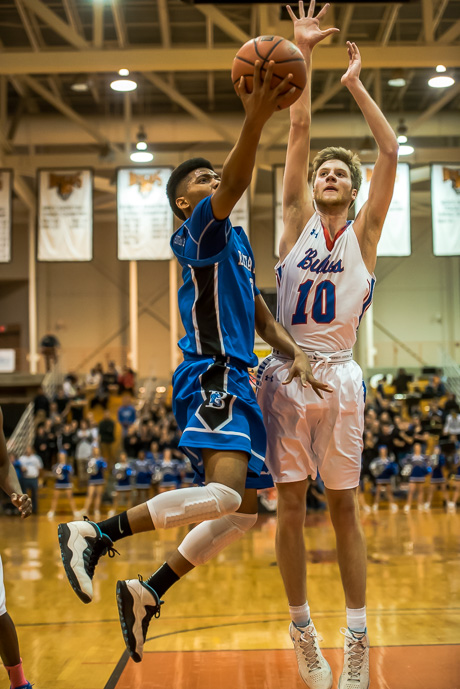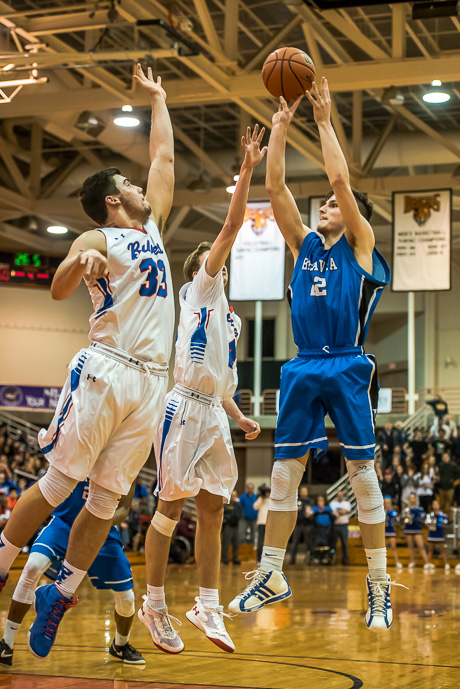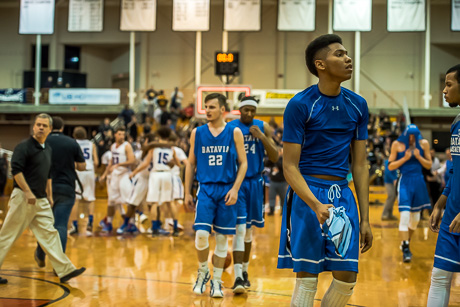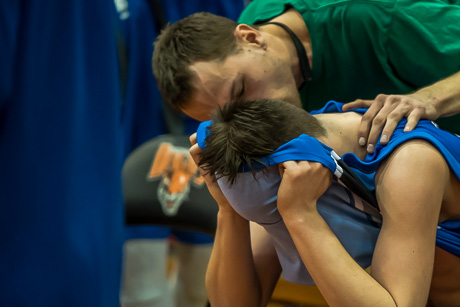 To purchase prints, click here.