May 24, 2014 - 11:37am
Covel, ND shut out Fillmore to advance to DD semis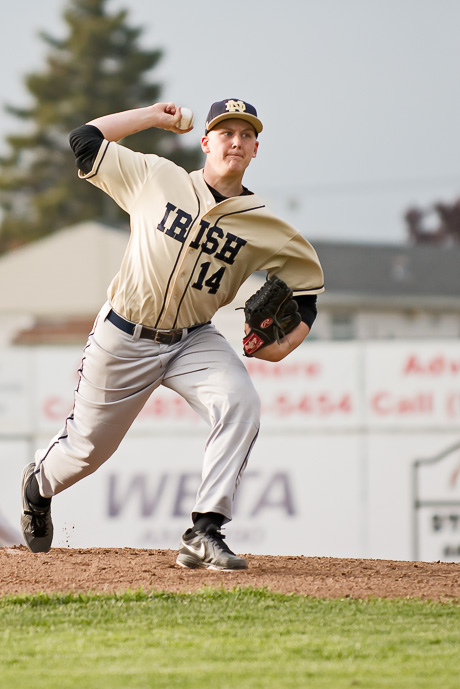 Sometimes in sports a star player can get rolling and it's hard to stop him.
That's what happened as Alec Covel started off hot on the mound and never looked back as Notre Dame blanked Fillmore 5-0 in the Class DD quarterfinals at Dwyer Stadium.
Covel started out the game hot, as he struck out his first five batters and he dominated the Eagles all night long.
"He was strong tonight, he had good stuff," said Notre Dame Head Coach Mike Rapone. "His last couple starts, he's pitched well, and actually he's pitched well all year. He has good command of the strike zone, he doesn't walk many people. When you don't walk anybody, it's hard to score."
The senior right-hander pitched seven scoreless innings, allowing just two hits and striking out 13 batters to improve his record to 4-1 on the season, with an astounding 0.55 ERA.
"I threw real well tonight," Covel said. "I've had a lot of time off to get ready for this game, and I've got a week if we make it to the finals."
Notre Dame got off to a solid start from the plate after Cal Tygart scored on a sac fly from Louis Reynolds in the bottom of the second to take a 1-0 lead.
The Fighting Irish would score two more in the third on a 2-run triple from Andrew Mullen, before adding two more in the fifth on an RBI double from Tygart and an RBI single from sophomore Tyler Prospero.
"We had some nice hits," Rapone said. "We got the ball up in the air too much, we've got to keep the ball down a little bit more, but we didn't strike out so that's good."
The only time that Covel appeared to be in any danger, was in the sixth inning after loading the bases on two walks and a hit batter with one out. He quickly dug himself out of the hole, picking off Joe Mullen at second base, before getting a strike out to end the inning and preserve the shut out.
Notre Dame (13-3) appears to have a double-headed monster on the mound with Covel and Tyler Stroud, who is 3-1 with a 1.11 ERA.
"It's a big advantage having two pitchers," Rapone said. "We didn't have to space Covel out tonight, say when we want to pull him out and get somebody else in, because he's not going to pitch Tuesday, Stroud is."
The second-seeded Fighting Irish will play Tuesday as Tyler Stroud takes the mound with a chance to advance to the Class DD finals.
Kyle Redman allowed five runs on seven hits while striking out four batters for Fillmore.