January 18, 2014 - 10:12am
Greece Arcadia out-muscles Batavia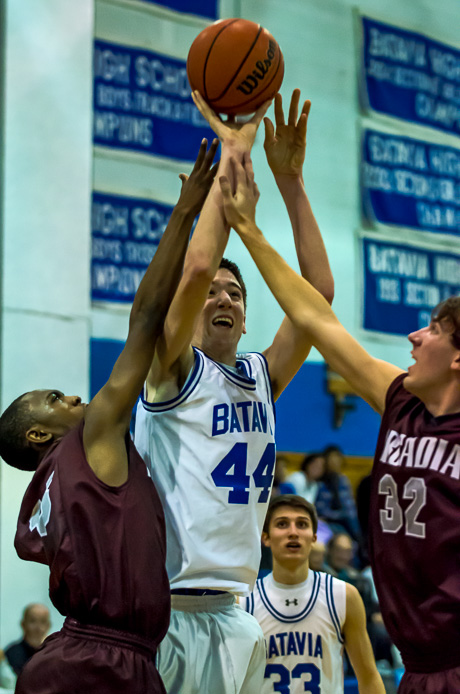 They say you can't teach size, and that was evident as Greece Arcadia out-muscled Batavia en route to a 61-56 win in Monroe County League play.
The Blue Devils got off to a slow start in the first quarter, as the Titans imposed their will inside and raced out to a 20-7 lead after the first frame.
"[Arcadia] is a physically tough team," said Batavia Head Coach Buddy Brasky. "They're the most talented team in the division. But, I was disappointed with our lack of toughness to start. We're not big, we're not strong, but we're usually pretty scrappy. For some reason we didn't bring that toughness to start the first quarter."
Batavia scrapped their way back throughout the game, cutting the lead to as few as six in the second half after switching defenses and getting back-to-back three-pointers from Jerrett Laskett.
"I thought their size was hurting us in man-to-man," Brasky said. "We switch on screens and we got some bad mismatches. We were hoping that the zone would get them a little more stationary. I thought it worked well, it helped get us back in the game."
The leading scorers for the Blue Devils, Jeff Redband and Justice Fagan, struggled to find room to breathe all night and were smothered by the Arcadia defense.
Laskett stepped up in the second half while the defense was keyed in on Redband and Fagan. The junior reserve knocked down three three-point field goals in the second half and finished with 14 points.
"Everybody is taking Redband and Justice out of the game," Brasky said. "Until someone else starts scoring consistently, it's going to be difficult to be good teams. The tough thing is, the guys we're asking to score are young guys."
The Blue Devils, however, struggled all night to find an answer for Arcadia's big men.
6-foot-6 senior Josh McFarland dominated inside all night, scoring 15 points, pulling 18 rebounds, blocking two shots and making two steals.
Jimmie Eddington, a 6-foot-5 senior, chipped in 14 points and grabbed five rebounds for Arcadia (7-4).
Fagan finished with a team-high 15 points, while Redband chipped in with 14, and Malachi Chenault added 11 points and eight rebounds for Batavia (7-4).
Top Photo: Jeff Redband attracted a crowd everywhere he went last night. A foul was called on the defense.
Photos by Howard Owens.
To purchase prints of photos, click here.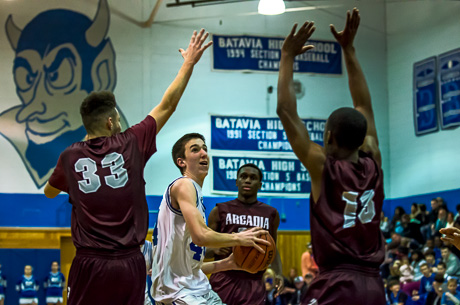 Jeff Redband, again in a sea of maroon jerseys.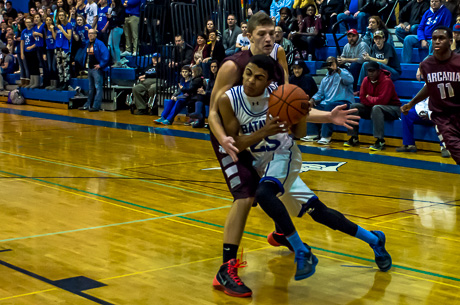 Jerrett Laskett driving for the basket.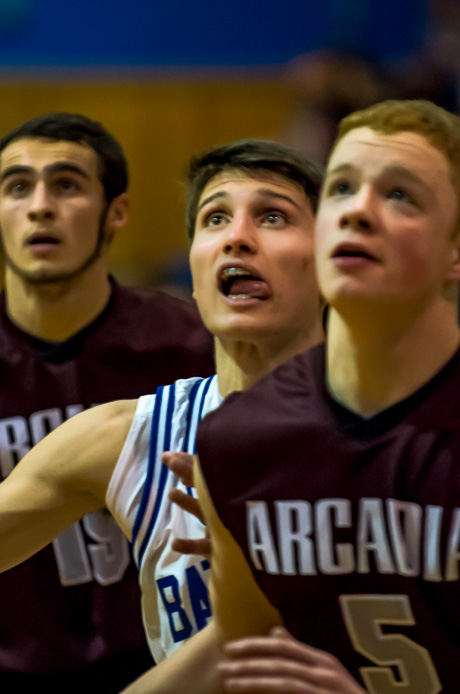 Greg Mruczek awaits a rebound opportunity during a free-throw attempt.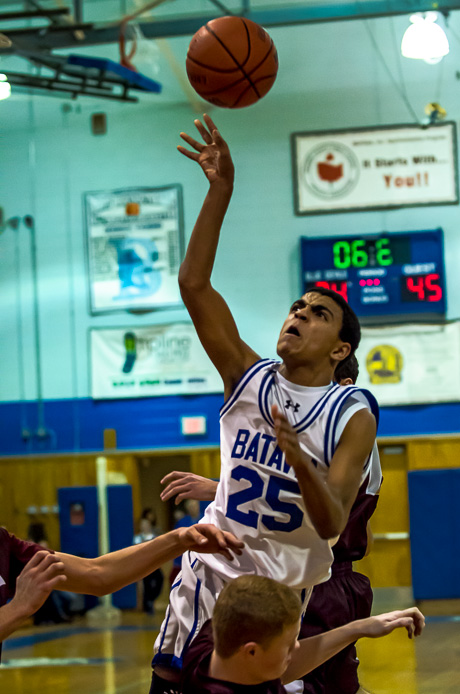 Jerrett Laskett scores on a layup in the fourth quarter.