March 2, 2014 - 9:14am
Lyons slays the Dragons in the Class C2 final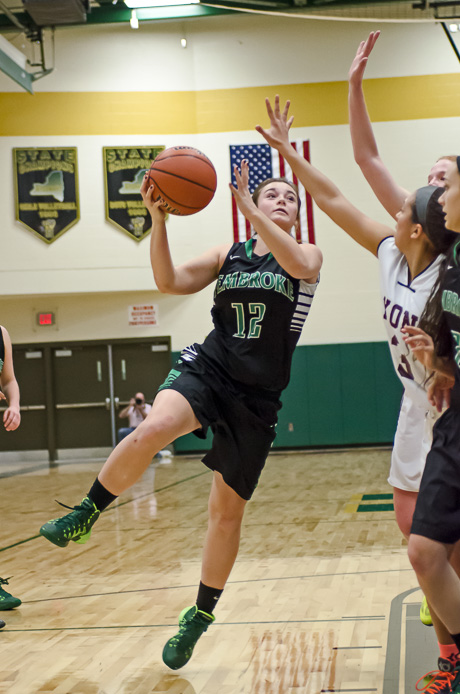 The historic run by the Pembroke Girls Basketball Team came to an end just one victory shy of their goal…to win the first sectional championship in school history.
The Lady Dragons were out-muscled all night long, as they fell to Lyons, 50-36, in the Class C2 championship game.
It became apparent very early in the contest that Lyons would have the upper hand on the glass, as they out-rebounded Pembroke 30 to 9 in the first half, with 17 of them coming on the offensive boards.
"We knew that rebounding was going to be the key," said Pembroke Head Coach Mike Wilson. "We planned for it. We tried to take some of their bigger kids out of it, but we weren't able to do that. They just out-rebounded us."
Despite the massive advantage on the boards, the Lady Dragons kept things close, trailing by just three at halftime after a pair of back-to-back three-pointers from Breanna Johnson to end the second quarter.
Pembroke got off to a strong start coming out of halftime as senior Chance Alexyn scored four quick points, but things quickly slid down hill.
Lyons would hold Pembroke to one point in the final 7:07 of the third quarter as they used a 12-1, to pull away for good, as turnovers doomed the Dragons.
"We've been turning the ball over 15 times or less per game for the last month," Wilson said. "But we probably had 15 in that quarter. We were sloppy with the basketball. We gave them too many second-chance opportunities."
Tournament MVP Abbie Shields dominated all night for the Lions, as she scored 17 points, grabbed 23 rebounds (12 offensive), and three blocks.
Meanwhile, Pembroke star Breanna Johnson struggled to find her shot throughout the match.
The senior class valedictorian managed just three points in the second half and was held without a field goal.
"We didn't make enough baskets," Wilson said. "We just didn't finish. We've been finishing shots; we've been playing well down the stretch. Unfortunately we came up short."
Despite the loss, the Dragons had one of their most successful seasons in school history and perhaps the best player to play in the program has played her final game.
Johnson finished with 11 points and four assists in her final high school game and her performance was good enough to earn her all-tournament team honors alongside her sister, Aralyse, and Alexyn.
"All of my seniors are very special to me," Wilson said. "Bre and I definitely have a special connection. We've spent a lot of time developing her game. She has been nothing but dedicated to what we have wanted to do."
Alexyn had a solid outing in her last game, scoring 10 points, pulling down four rebounds and three steals for Pembroke (15-6).
Lyons out-rebounded the Dragons 54-21 for the game, with 28 of those coming on the offensive boards.
Taniqua Johnson was also named to the all-tournament team for Lyons, as she scored a game-high 18 points and added 15 rebounds.
Photos by Howard Owens.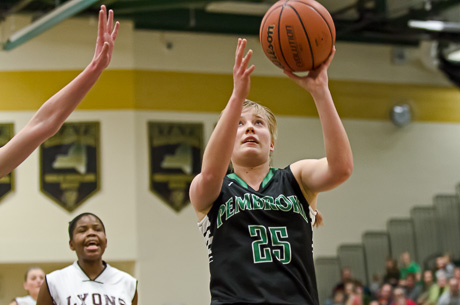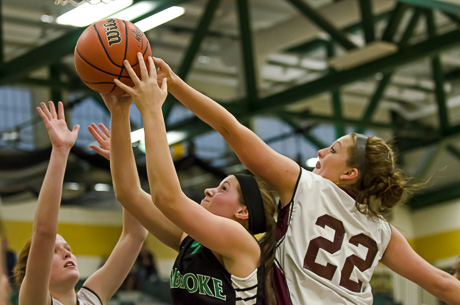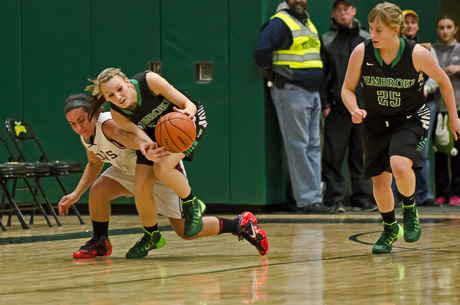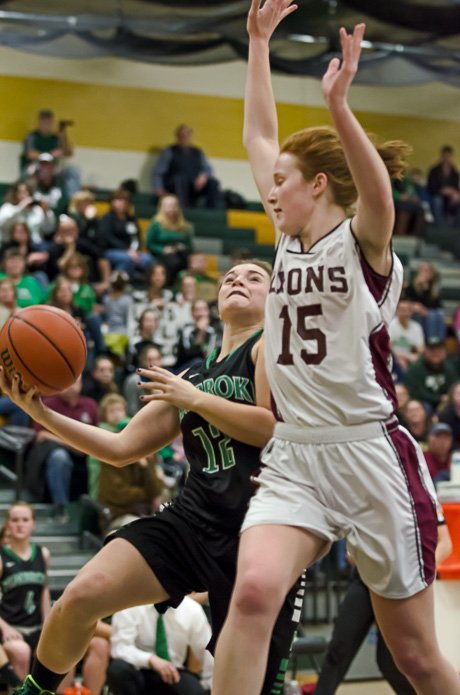 To purchase prints, click here.