May 18, 2016 - 9:01pm
John E. "Jack" Konarski
posted by
LaVern Falcone
.
LeRoy ~ John E. "Jack" Konarski, age 81, of Randall Road, passed away at home on Tuesday afternoon (May 17, 2016) in the loving presence of his family.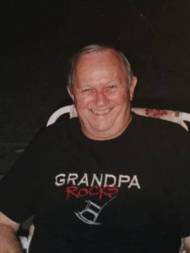 He was born November 25, 1934 in LeRoy, a son of the late John V. and Julia Vescovi Konarski.
     Jack was a very loving man, who had a great sense of humor.  He loved animals, wood carving & whittling and reading.  He was a member of the Living Waters Church and Godfrey's Pond, where he enjoyed fishing.
     He is survived by his loving wife of 59 years, Carol Papke Konarski; daughter, Lori Hawkins of Stafford; son, David (Jane) Konarski of Lakeville; grandchildren, John (Cheryl) Burrs, William Konarski, Richard Konarski, James (Elaina) Konarski, Jennifer (Devon) Saltsman, Shawna Hawkins and Nick Hawkins; 12 great grandchildren; 3 great-great grandchildren, along with many cousins, nieces and nephews.  He was predeceased by his sisters, Rita (Robert) Schmeer and Betty (Donald) Angst and his grandsons, Michael Burrs and Christopher VanBuskirk.
     Family and friends may call on Friday from 2 ~ 4 and 6 ~ 8 PM at the Falcone Family Funeral & Cremation Service Inc., 8700 Lake Road (Rt. 19), LeRoy.  His Celebration of Life Service will be held on Saturday at 11:00 AM at the Living Waters Church, 30 Main Street, LeRoy.
     Memorial contributions are suggested to either Living Waters Church or Homecare & Hospice.
     Your memories and condolences may be shared with Jack's family at www.falconefuneralhome.com.