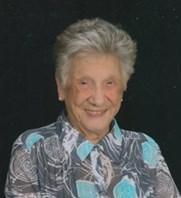 ELSIE M. WOODWORTH (TIBERIO-ELLIS) - Age 91, formerly of Batavia, died peacefully at home on May 30, 2014 in Fort Myers, FL. She was born August 29, 1922 in Batavia, a daughter of the late Tito Tiberio & Margaret Mondo (Torcello-Tiberio), also preceded in death by her husband, Deane P. Woodworth; step-father, George J. Mondo; brother, Nicholas J. Tiberio and daughter, Sherry Woodworth-Farnsworth.
   Elsie was a loyal member of the Batavia High School Class of 1939 and was employed by New York Bell Telephone Co. (1950-1977) and was a life-time member of the Telephone Pioneers of America.
   Her faith was the core of her life, as a member of St. Anthony's Roman Catholic Church, she was active in the Altar & Rosary Society and was Director of the Catholic Youth Organization. In 1965 she received the Pro Deo Et Juventute Award from the Bishop of Buffalo for outstanding service, loyalty and devotion to youth.
   Wherever she lived, Elsie believed in service to her community. In her young adult years in Batavia, she volunteered at St. Jerome's Hospital and while living in Stafford, NY, she belonged to the Stafford Volunteer Fire Department Ladies Auxiliary.
   She expressed her youthful spirit through dance, tennis, golf and quality time with family and friends. She was an enthusiastic supporter of her grandchildren, attending many special activities. Elsie was proud to be a devoted New York Yankee, Buffalo Bills and University of Notre Dame Football fan.
   Surviving are her loving children, John Ellis, Ann Marie Ellis, James Woodworth, Susan (James) Woodworth-Moore and Susan (James) Flagg; her legacy includes 13 grandchildren, 10 great-grandchildren, 2 great-great grandchildren along with many cousins, nieces, nephews and special friends.
   Family and friends are invited to attend Elsie's Mass of Christian Burial 11:00 a.m. Saturday August 9, 2014 at Ascension Parish, corner of Swan & Sumner Streets. Burial will be in Morganville Cemetery in Stafford and memorials in her memory are suggested to Hope Hospice 9470 HealthPark Circle Fort Myers, FL 33908; Mercy Home for Boys & Girls, 1140 W. Jackson Blvd. Chicago, IL 60607 or a favorite charity.           
Please share your memories of Elsie, with her family at www.tomaszewskifh.com and for more information call Michael at (585)343-7500. 
THE FAMILY OF ELSIE M. WOODWORTH IS BEING CARED FOR BY THE MICHAEL S. TOMASZEWSKI FUNERAL & CREMATION CHAPEL, LLC 4120 WEST MAIN STREET ROAD BATAVIA, NEW YORK 14020.