July 15, 2019 - 12:16pm
Helen L. Ladd
posted by
LaVern Falcone
.
LeRoy ~ Helen L. Ladd was born in Glasgow, Scotland on January 27, 1928 and died on July 11, 2019. Helen was born to Christina and John Laughlin, along with siblings Catherine, Christina, Isabelle, and Hugh, who all passed away in Scotland.  Her sister Lynette (Scotty) Graham, who lived in LeRoy as Helen did, passed away January of 2017.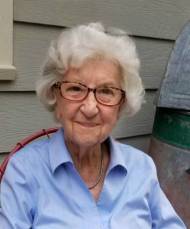 Helen met 101st Airborne Paratrooper Richard Ladd in July of 1944.  They were married in Glasgow September 14, 1945. Richard went back to the war and didn't see Helen again until April of 1946. She sailed over on the U.S.S. Henry Tyler and lived with Richard for 70 years until his death, September 27, 2015.  Helen was a homemaker, an avid bridge player, a member of the LeRoy United Methodist Church and will always be remembered for her beautiful Scottish voice. She was  always a hit in the old Rotary shows.  Helen was full of pranks and was known to make grand entrances in some sort of hysterical regalia.  Helen became a United States Citizen and was proud to be an American. Amazing enough  watching Jeopardy, often her best category was U.S. History.
     Helen is survived by her children, Kent (Lori Mcbride) Ladd, who live in So. Carolina, Brock (Kerry Herrington) Ladd, who live in Phoenix, AZ and her daughter,  Leslie (Daniel Johnston) Ladd, who live in Stafford, N.Y. with whom Helen spent her last 3 years.  Her son, Stuart Ladd died in 2010.  Brother-in-law, Donald Ladd also died in 2010, but is survived by his lovely wife, Barbara Ladd, who resides in Mansfield, CT. Brother-in-law, David  Graham, husband of Lynette, resides in LeRoy.  Helen is also survived by her grandchildren, Caroline (Andrew) Costa of Maryland, Rebecca (Stephen) Saeva of Stafford, Jonathan (Katherine) Ladd of So. Carolina and Owen Ladd also of So. Carolina and  8 great- grandchildren, whom she adored.
      Services will be private and interment will be in Machpelah Cemetery.
     Your memories and condolences may be shared with Helen's family at www.falconefuneralhome.com.
     Mrs. Ladd and her family are being cared for by the Falcone Family Funeral & Cremation Service Inc. in LeRoy.  585-768-2400