March 17, 2020 - 11:54am
Mrs. Beverly A. Grice
Batavia - Beverly A. Grice, 85, of Batavia, passed away Monday, March 16, 2020, surrounded by her loving family at United Memorial Medical Center.
Mrs. Grice was born September 21, 1934, in Batavia, daughter of the late Leon Hiscutt and Mildred Morrell Hiscutt.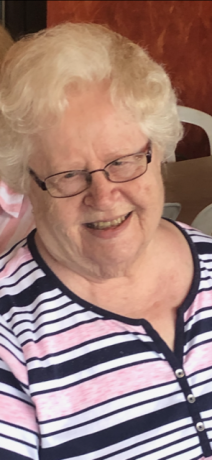 Her husband, Robert F. Grice, passed away on February 27, 2005.
She is survived by her children; Susan (Mark Walkowski) Schuh of Cheektowaga, Steven (Lisa) Grice of Batavia and Jane (Kris) Petote of Bergen; five grandchildren; Brian (Gina) Buckley of Tonawanda, Carissa Schuh of Cheektowaga, Alex (Randi Zakes) Grice of North Chili, Casey (Ashley Bordenet) Grice of Colorado Springs, Colorado and Jacob Petote of Washington D.C.; four great-grandchildren; Evan, Gwen, Jenna and Gianna; her sister; Audrey (late Richard) Sheelar of Batavia.  She is also by her two dear friends; Carmen Ilacqua and Jean Nichols along with several nieces and nephews.
She is predeceased by her brother, David Hiscutt.
A longtime employee of The Daily News in Batavia, she was a member of St. Joseph's Church. A movie fanatic and Elvis fan, she always saw the good in everyone she met and put their needs ahead of her own. A devoted "Granny" to her grandchildren, she would often remark that her children were "her whole world". She will also be missed by her four-legged "babies", Luke, Lacie and Penny.
Her family wants to extend their sincere appreciation and gratitude to the nurses and nurses aides on the 2nd floor at UMMC.
Friends may call from 4:00 PM - 7:00 PM on Thursday at the H.E. Turner & Co. Funeral Home, 403 East Main Street, Batavia, where services will follow visitation. Her Mass of Christian Burial will be celebrated for her immediate family at St. Joseph's Church. She will be entombed in St. Joseph's Mausoleum. In lieu of flowers, contributions in Beverly's memory may be made to Crossroads House, P.O. Box 403, Batavia, New York 14021 or to Genesee Cancer Assistance, Inc., 127 North Street, Batavia, New York 14020. To leave a condolence, share a story or light a candle in Beverly's name, please visit www.bataviafuneralhomes.com.