July 3, 2020 - 12:20pm
Albert P. Strobel
posted by
LaVern Falcone
.
Pavilion ~ Albert P. Strobel, age 92, of Lake Street, passed away Wednesday evening (July 1, 2020) at UMMC in Batavia.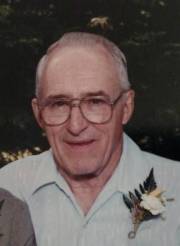 He was born October 13, 1927 in Batavia, a son of the late Ralph and Jane Peterson Strobel.
     Al will be remembered as a loving and caring man, who was devoted to his family and his faith.  He was a proud World War II veteran, having served with the U.S. Army.  He started his own family business, Strobel Auto Electric and was an exceptional wood worker.
      He will be sadly missed by his loving wife of almost 70 years, Mary Smith Strobel; his children, Sharon Grube of FL, Bruce (Mary) Strobel of Tonawanda, Nancy (James) Morthope of GA, Larry Strobel of Pavilion, Deborah (Don) Cahail of MO and Joan (Andy) Stevens of Mt. Morris; 13 grandchildren; 16 great-grandchildren; 1 great-great-grandchild; his brother, Rev. Herbert R. Strobel of PA; Fresh Air Fund Daughter, Debbie Farr, along with many nieces, nephews and dear friends.
     He was predeceased by his brother, Ralph W. "Billy" Strobel and his sister-in-law, Marge Strobel.
     There will be no prior visitation.  A public memorial service will be announced at a later date.
     In lieu of flowers, memorials are suggested to either the Pavilion Fire Department or the Pavilion United Methodist Church.
     Your memories and condolences may be shared with Mr. Strobel's family at www.falconefuneralhome.com.