December 7, 2020 - 12:04pm
​Evelyn Printup Ramsey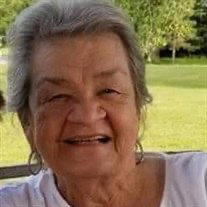 Evelyn Printup Ramsey, age 80, of NC 226-North in Marion, died Saturday, November 28, 2020 at the Mitchell House in Spruce Pine, NC. 
Born in Genesee County, NY, she was the daughter of the late Llewellyn and Rose Chugg Printup. In addition to her parents, she was also preceded in death by a son; Michael Dickinson and a brother; Duanne Printup. 
Evelyn was a graduate of the Elba Central School and a member of the Elba Baptist Church. She was proud of her Native American Heritage and took great pride in her contributions to Native American Charities. She spent many hours making dream catchers and medicine wheels. She enjoyed gardening, animals and her pet, Willow. 
Left to cherish her memories are her sons; Bob Dickinson of Bativia, NY and Mark Dickinson; her daughter, Rhonda Loss; her sisters; Dawn Printup of Brockport, NY and Jeanette Smith of Susquehanna, PA; her brother; Kenny Printup of Medina, NY; two special girls whom she considered her own; Christine and Pam; her significant other, Frank Erhardt and his sister, Gloria Gormly both of Spruce Pine, and several grandchildren. 
No services are planned at this time. 
Words of comfort may be e-mailed to the family by going to our website; www.webbfh.com., selecting Evelyn Ramsey's name and then you may sign her guestbook. Webb Funeral Home has been entrusted with the arrangements for Mrs. Ramsey and is honored to be serving the Ramsey family. Mrs. Ramsey's obituary has also been posted on Facebook for viewing.