February 12, 2021 - 8:40am
Stewart A. Whitney
posted by
LaVern Falcone
.
Pavilion / The Villages, FL - Passed away peacefully on February 7th, 2021 with his loving wife by his side.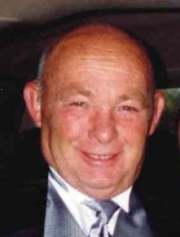 Stewart had a tireless work ethic and a perpetual determination to succeed.  This manner of living was present throughout his life. He graduated with honors from RIT in 1973, had a successful career as a Chemist at Eastman Kodak for 26 years; all the while owning and operating a cash crop farm in Pavilion, NY.
     Not quite ready to retire, Stewart  began an antique and furniture restoration project which he named "Linwood Chairs".
     If you met him on the street, he'd want to know all about you because that's the type of man he was;  he took genuine interest in people and his community.  He was a great athlete and had a special place in his heart for animals.
     Stewart will be most fondly remembered for his ability to make his friends and family smile & laugh.  
     Stewart is survived by his beloved wife of 55 years, Shirley; son, Steven, daughter, Wendy (Jodi); grandchildren, Julia and Spencer; sister, Jean (Jim) Vokes, brother and sister in-laws, Bob (Karen) Milligan, Caroline Milligan, Darryl Swede, Sharon Swede (Gary), Dave (Jo) Milligan and many nieces and nephews.  He is preceded in death by his daughter, Robyn, brothers, Douglas and Richard, brother in-law, Don Milligan and sister-in-law, Diane Swede.
     Inurnment will take place at the Pavilion Cemetery at the convenience of the family and a Celebration of Stewart's Life is being planned for June.
     Memorials may be made in his memory to the Pavilion Food Bank & the Pavilion Fire Department.
     Your memories and condolences may be shared with Stewart's family at www.falconefuneralhome.com.
     Mr. Whitney and his family are being cared for by the Falcone Family Funeral & Cremation Service Inc. in LeRoy and Hiers-Baxley Funeral Services in Florida.