February 24, 2021 - 9:43am
George A. Hanel
posted by
Ronald Konieczny
.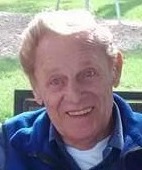 George A. Hanel, 81 of Batavia, passed away unexpectedly on Monday (February 22, 2021) at his residence.
He was born September 26, 1939 in Buffalo, NY, a son of the late Howard and Maria Matters Hanel.
Mr. Hanel was a Veteran of the U.S. Army, serving his country from 1958-1961. He was employed as an engineer for Conrail prior to his retirement. He enjoyed trains, traveling and would often take long driving trips with his wife.
He was the husband of the late Evelyn Hanel, father of the late David Hanel and brother of the late John Hanel.
Survivors include his children, Karl (Dawn) Hanel of Corfu, Maureen Smith of Batavia and Mark Hanel of LeRoy. Brothers, Leonard (Therese) Hanel of Grand Island and Paul (Roberta) Hanel of West Virginia. Sisters, Patty Ann (Dale) VanSlyke of Rochester and Stephanie (Gary) Seitz of South Carolina. Sister in-law, Johanna Hanel of North Carolina. Also survived by 8 grandchildren, 6 great-grandchildren, nieces and nephews.
Funeral services will be held at a later time with burial in Grandview Cemetery.
Memorial contributions may be made to the NYS Veterans Home Activities Fund, 220 Richmond Ave., Batavia, NY 14020 or Disabled American Veterans at www.dav.org. Expressions of sympathy may be shared with the family at www.mcandrewfuneralhomes.net.
ARRANGEMENTS WERE ENTRUSTED TO THE J. LEONARD McANDREW FUNERAL HOME, LLC, 2 BOGUE AVE., BATAVIA, NY 14020. RONALD KONIECZNY II, DIRECTOR.