April 8, 2021 - 6:30am
John F. Rider
posted by
LaVern Falcone
.
Le Roy - John F. Rider passed away peacefully surrounded by his loving family at Strong Memorial Hospital on April 6, 2021 at the age of 82, as a result of injuries from a fall. He was born on November 5, 1938 in Batavia, NY.
  John is predeceased by his parents, Fred and Rita Rider, his infant daughter, Amy and grandson, Jeffery Rider.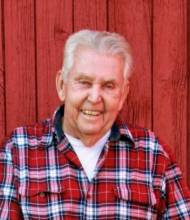 John served two years in the United States Army as a tank mechanic, after which he started his own contracting business, building many of the homes on Linwood Road and other local commercial buildings, notably the log style Batavia Country Club.  He then moved on to selling real estate for many years as the Owner/Broker of John F. Rider Real Estate in Le Roy, NY.  While running his real estate business, he also served as Le Roy Town Justice, was on the Board of Directors of the Pavilion State Bank and the Genesee Country Bank.  John was a founding member of the Le Roy Business Council and Le Roy Ambulance, where he served as treasurer for many years.  He served on the Le Roy Town Board, was a Third Degree member of the Knights of Columbus, a member of The Hooks and Our Lady of Mercy Parish.
  John cared deeply for his community and was always willing to do whatever he could to make it a better place to live.  His generosity and kindness went without saying. 
  John had a passion for the outdoors and trees, planting hundreds of seedlings around his farm every year, sharing them always with friends and family or anyone who might want a tree for their yard. 
  Nothing was more dear to John than his family. He loved them all deeply and couldn't be more proud of them. He was always there to support them, never missing an event of any kind that any one of them would be participating in.  He will be deeply missed by everyone, but none more than his family who adored him.
  John is survived by his loving wife and soul mate of  61 years, Gloria (Englerth) Rider, daughters, Beth (Paul) Hiscutt, Barbara (Howard) Hotze, Martha Butzbach and son, Steven Rider (Amy).  He is survived by his grandchildren, Chad Pieri (Jacquelyn), Joshua Hotze (Dee), Zachary Hotze (Courtney), Sara Butzbach, Courtney Butzbach (Shawn), his great-grandsons, Tyler Rider and Luke Rider as well as his siblings, Mary (David) Fee, Phil (late Linda) Rider  and Jeanne (Ray) Ianita and many dear friends.  John is also survived by his special feline friend, Rusty Rider.
  The family would like to express their sincere thanks to the staff at Strong Memorial Hospital for the wonderful care they provided during John's stay.
  A mass of Christian Burial will be held on Tuesday, April 13 at 11:00 AM at Our Lady of Mercy Parish, St. Peter's Church, 44 Lake Street, LeRoy.
  In lieu of flowers, a Le Roy High School scholarship will be created in honor of John.  This will be presented to a Senior who embodies the dedicated work ethic, selflessness and kindness that he exhibited each and every day of his life. Donations for this scholarship can be mailed to Martha Butzbach, c/o Le Roy Central School Disrict, 2-6 Trigon Park, Le Roy, NY 14482.
  Donations can also be made in John's name to The Open Door Mission, 156 North Plymouth Avenue, Rochester, NY 14608.  https://opendoormission.com/give-give
     Your memories and condolences may be shared with John's Family at www.falconefuneralhome.com.
     Mr. Rider and his family are being cared for by the Falcone Family Funeral & Cremation Service Inc. in LeRoy.  585-768-2400