September 23, 2021 - 11:25am
Victor M. Jensen "Vic"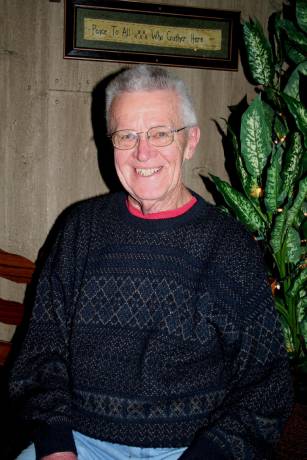 Victor M. Jensen "Vic", of Attica, passed away on his 94th birthday, Thursday, January 7, 2021 at LeRoy Village Green. He was born January 7, 1927 in Batavia, to the late Marius (Camilla Petersen) Jensen. He was very proud to be the youngest of 12 and is preceded in death by his wife Neva J. (Sergel) Jensen, all of his siblings, brothers Charles, Walter, Harry, Alfred and Frank Jensen, sisters, Edith Carpenter, Ethel Schernau, Mabel Jensen, Ruth Jensen, Christine Brown and Virginia Stephan.   
Vic was married to Neva for 49 years after they eloped on Valentine's Day in 1954.  He owned and operated Jensen's Liquor Store for over 30 years.  He lived during the depression, was a polio survivor at age 18, and lost the use of his right hand, however was often heard saying,"I've had a wonderful life and a wonderful wife."  He was extremely proud of his daughters for their excellence as athletes and as students and that he was able to put them through college.  He was an avid supporter of his daughters and grandchildren in life and sports.  
Vic is survived by his daughters, Vicki L. Jensen, Joanne M. (Robert) Maxwell, Lynn M. (Barry) Northup, 5 grandchildren, Rob (Erika) Maxwell, Ryan (Lorraine) Maxwell, Ashley, Brandon, Jenna Northup, 5 great-grandchildren, Robbie, Phillip, Grace, Logan and Jaclynn, along with many nieces, nephews, and cousins.
The family would like to thank the staff at the Manor House and LeRoy Village Green, along with friend's neighbors and family who all took such loving care of Vic.
There will be an 11:00 AM Celebration of Life on Saturday, October 2, 2021 at Marley Funeral Home, LLC, 135 Main St, Attica, NY 14011. He will be laid to rest at Forest Hill Cemetery, in Attica, NY.
In lieu of flowers memorials may be made to Genesee Cancer Assistance, 127 North St., Batavia, NY 14020; Crossroads House, PO Box 403, Batavia, NY 14020 or to American Heart Association, www.heart.org. For more information please call (585) 591-1212 or to leave a message of condolence visit www.marleyfuneralhome.com. Arrangements completed by Marley Funeral Home, LLC, 135 Main Street, Attica, NY 14011.