November 17, 2021 - 2:00pm
James C. Weber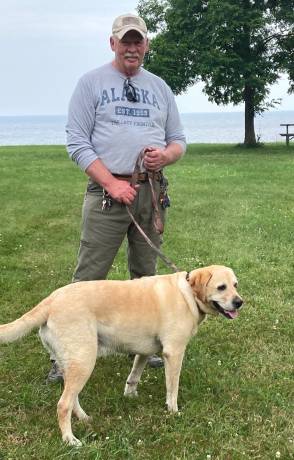 James C. Weber, 63, of Attica passed away on November 16, 2021.  He was born on January 10, 1958 in Buffalo to the late James R. and Patricia (Cunningham) Weber. In addition to his parents, James is predeceased by his brothers; Charles and Michael Weber; brother in law Greg Helm.  
Jim retired after 35 years as a Corrections Officer, spending the majority of those years at Wyoming Correctional Facility. Jim loved the outdoors, especially the Adirondacks where he enjoyed hiking, fishing, and camping with his family. He enjoyed spending his days with the love of his life, Diane, and his beloved dog, Millie, at their home which Jim referred to as their "little piece of heaven." His greatest joy was the deep love he had for his family. He loved being a grandfather and doing everything with his best buddy, Zander. Jim loved talking to people and made everyone he was around feel like family, something he carried over to Gateway Home where he and Diane volunteered. He was known by many as the "wreath man," making Christmas wreaths for over thirty years for craft shows and for family. 
He is survived by his beloved wife; Diane (Helm) Weber of Attica; children Kimberly (Christopher) Travale of Attica, Cory (Emily) Weber of Varysburg; siblings Bradley (Amy) Weber of Castile, Eileen Weber of NH; sister-in-law Darlynne Weber of Attica; brothers-in-law Neil (Mary) Helm of SC, Gary Helm of Varysburg, Jay Helm of Varysburg and Keith (Lori) Helm of PA; his grandson Zander Travale, along with several nieces and nephews.
There will be no prior calling hours. An 11:00AM Funeral Service will be held on Saturday November 20, 2021 at the First Baptist Church 3 Prospect St. Attica, NY 14011.
In lieu of flowers memorials may be made to the Attica Rescue Squad, 11 Water Street, Attica, New York 14011 or Gateway Home 91 Main St. in Attica.  For more information please call (585) 591-1212 or to leave a message of condolence visit www.marleyfuneralhome.com. Arrangements completed by Marley Funeral Home, LLC. 135 Main Street, Attica, New York 14011.