Image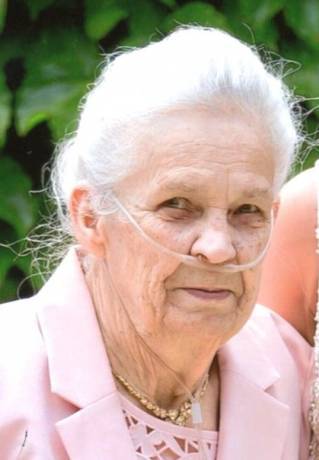 Batavia and Oakfield- Carol I. Lucas, 92 of
 Batavia, and formerly of Oakfield, peacefully passed away on Tuesday, (October 4, 2022) at United Memorial Medical Center in Batavia.
Carol was born December 25, 1929 in Niagara Falls, New York a daughter of the late Robert and Fern (Rinker)Hartley.

She met the love of her life, Edward Lucas, during a night out at the roller skating rink. Carol was a loving mother who selflessly cared for her home and children. Later in her life she acquired her GED and worked as a House Mom for the NYS School for the Blind, until her retirement.

She was a member of the Oakfield Home Bureau, a proud supporter of the Oakfield- Alabama Grange, and a cub mom for the Boy Scouts. Carol enjoyed bingo, puzzle books, jigsaw puzzles, playing cards, especially pinochle and flinch, and roller skating when she was younger. She loved little dogs, spending time with her family, and traveling to visit relatives.

Surviving are her children, Rebecca (John P.) O'Donnell, Thomas "Tom" (Valerie) Lucas, and Kathleen L. Lucas; grandchildren, John E. (Kate) O'Donnell, Jillian (Daniel) Massetti, and Patrick S. (Erica) O'Donnell; daughter-in-law, Susie Lucas; sister-in-law, Margarette Hartley; 7 great-grandchildren and many nieces, nephews, and cousins.

In death Carol is reunited with her husband, Edward; son, Howard Lee Lucas; parents, Robert and Fern (Rinker)Hartley; and siblings, Robert Hartley and Pearl (William) Reignhart.

Family and friends are invited to a graveside memorial service at Reed Cemetery, Judge Road in Oakfield, on Monday, October 17, 2022 at 1:00 pm, followed by a gathering and fellowship at the Caryville Inn, 24 Main Street in Oakfield, from 1:30 pm to 3:30pm . in lieu of flowers, memorials may be made to the Volunteers for Animals PO Box 1621 Batavia, NY 14021.
Arrangements were entrusted to the Burdett & Sanford Funeral Home in Oakfield. Please leave a condolence, share a story, or light a candle at 
www.burdettandsanford.com
.