Image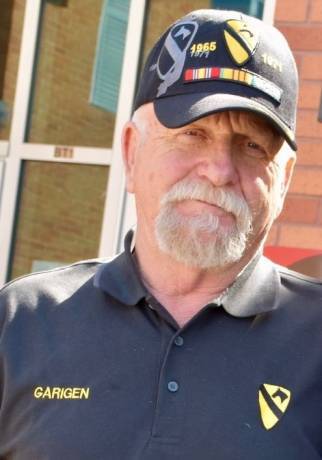 Terry J. Garigen, 74, of Darien Center, NY passed away on November 20, 2022 unexpectedly at his home. 
Terry was a graduate of Alexander Central School and Erie County Technical Institute with an Associate's Degree in Mechanical Technology before being drafted into the U.S. Army and served his country in Vietnam.  Upon his return he had a long career working with the Darien Highway Department.  Terry used every moment of his spare time in service to others.  Along with his dedicated crew, he built pole barns, houses, and countless other structures throughout Western New York. 
In retirement, Terry became a very dedicated member of the Patriot Guard Riders.  For over 10 years Terry served with the Patriot Guard and devoted his time and effort to honor our Military Veterans and support their families.  Terry was appointed as a Region-1 Ride Captain in 2015 and was one of the Guard's most loved and highly respected leaders.  Terry was a very proud, decorated US Army Vietnam Veteran, but he was very humble about his dedicated service.
Terry was a well-known helper and good neighbor.  Whether it was by swinging his hammer or holding an American flag, Terry went out of his way in the service of others.
Terry was a loving husband to his wife Nancy, and they shared many of life's adventures together for over 50 years.  Terry was a dedicated brother to Barry and his wife Marianne and father to his daughter Jamie and son TJ.  Also known as Boppa, Terry leaves behind his five grandchildren Elizabeth, Emma, Natalie, Molly, and Everett. 
Calling hours will be held at Marley Funeral Home, LLC. 135 Main St. Attica, NY 14011 on Friday November 25, 2022 from 3:00-7:00PM.  An 11:00AM Memorial Service will be held on Saturday the 26th at the Funeral Home. Mr. Garigen will be interred at the WNY National Cemetery in Corfu on November 29, 2022 at 11:00AM.  
In lieu of giving flowers, the family asks that those who are able instead make a donation to the Darien Volunteer Fire Department or Patriot Guard Riders NY at PGRNY.org or PO Box 637 Wappingers Falls, NY 12590. To leave an online message of condolence please visit www.marleyfuneralhome.com. Arrangements completed by Marley Funeral Home, LLC, 135 Main Street, Attica, New York 14011.