December 13, 2022 - 4:39pm
Hazel Luce Parker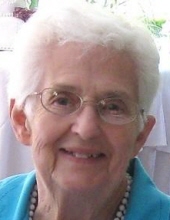 Hazel Luce Parker, at the age of 99, has passed peacefully during the evening of December 10, 2022, under her family's care at the home of her daughter in Perry.
Hazel was born September 1, 1923, in Johnsonburg, Town of Orangeville, Wyoming County, the daughter of Vern and Dorothy Gerhardt Luce. She graduated from Attica High School in 1941, followed many of the women during the years of WWII into the work world by studying business at RBI in Rochester and working for Eastman Kodak until 1948…working by day and playing on their softball team by night. But it was square dancing, back in Wyoming County, that brought her and her future husband, Fletcher Parker (of Perry), together and they were married on her birthday in 1948. That launched her into her lifelong career as a dedicated homemaker, wife, and mother of seven children. Her dedication to the task was unmatched. During the nineteen-fifties, sixties, and seventies she was 24/7 a cook, seamstress, teacher, busing organizer, school and church activities promoter and supporter, etc. Hazel made sure the family was cared for, their responsibilities were taken care of, and the entire family was fully participating in school, church, and community activities. School sports and musical events attended must have numbered into the thousands as she and Fletcher watched their children and grandchildren all participate continually. Hazel embraced the role of getting seven children educated…from the earliest Sunday school and music lessons through all seven achieving at least a bachelor's degree. She enjoyed the work…but it wasn't all work. She enjoyed a game of Euchre with family and friends as often as possible…and for over 50 years she looked forward to her twice-a-month evenings with her eight Bridge playing friends.
Hazel is pre-deceased by her father in 1980 and mother in 1992, and her elder brother Frederick, and younger sisters Margaret Chamberlain and Zora Cox. She is also pre-deceased by daughter Lucinda A. Parker, in May of 2021 and an infant grandson, Andrew Spence Parker in 1974.
Her brother Ray Luce and sister Norma Luce survive as do her children Eric (Peggy) Parker of Perry; Laurie (Howard is deceased) Hartley of Spring, Texas; Kristin (Brian) Cox of Perry; Calvin Parker of Perry; Beth (Sarah Fogler) Parker of Guelph, Ontario, Canada; and Brian (Kathy) Parker of Wyoming, NY. Her seventeen grandchildren are Nathan (Tammy) Parker (Trumansburg), Erin (Frank Stewart) Parker (Bozeman, MT), Rachel (Thomas) Parker (Woodbridge, VA); Matthew Hartley, (Spring, TX), Margo Hartley; Timothy (Ashley) Cox (Daniel Island, SC), Meghan (William) Hayes (Churchville), Gregory (Vivian Lim) Cox (Singapore), Wesley (Becky) Cox (Scottsville), Eliza Cox; Leah (Hunter) Wooster, William Parker, Jan Lawrence Parker; Parker Fogler (Victoria, BC), Calvin Fogler (Santa Clara, CA); Haley (Tyler Eagleton) Parker (Boston, MA), and Abigail Parker. Seventeen great-grandchildren are Tess (Hunter Ford) Parker (Boise, ID), Annalee and Elias Parker (both Trumansburg); Lily, Lucas, and Jonah Parker (all Woodbridge); Annabelle Shutter-Hartley (Spring); Warren, Henry, and Abraham Cox (all Daniel Island); and Fletcher, Dorothy, Russell, and Peter Hayes (all Churchville); Dawn Cox (Singapore); Athalia and Everett Cox (both Scottsville).
Hazel taught service and lived service. She was very much self-sacrificing. She was a member of the Brick Presbyterian Church and served as a deacon starting in 1965. Her interest in her church and unmatched ability to cook and sew meant she was a critical behind-the-scenes master of making church dinners and craft bazaars successful. She learned her sewing skills at home from her mother, but her expectations of herself to be the best led to her winning a national sewing contest, with an automobile as the top prize, with a dress made for one of her children. Those skills also made Hazel an incredible resource for our local and Wyoming County 4-H programs. She led a 4-H club, the Peppy Perryettes, and dozens of children, for decades and served on the county advisory committees from the early 1960s until just a few years ago, nearly 60 years of dedication to that organization.
To celebrate a long life, purposefully lived, friends and neighbors may call during the hours of 4:00 to 7:00PM on Thursday, December 22, 2022 at Eaton-Watson Funeral Home, LLC. 98 North Main Street, Perry, NY 14530. A Memorial Service and reception is being planned for 11:00AM, Friday, December 23, 2022 at the Brick Presbyterian Church in Perry.
Consider a memorial gift to the Brick Presbyterian Church, 6 Church Street, Perry, NY 14530, or to Wyoming County Cooperative Extension's 4-H program. A gift in Hazel's name may be made to a charity of your choice, as well. For more information please call (585) 237-2626 or to leave a message of condolence visit www.eatonwatsonfuneralhome.com. Arrangements completed by Eaton-Watson Funeral Home, LLC. 98 North Main Street Perry, New York 14530.