December 14, 2022 - 1:15pm
Lottie Starowicz
posted by
Ronald Konieczny
.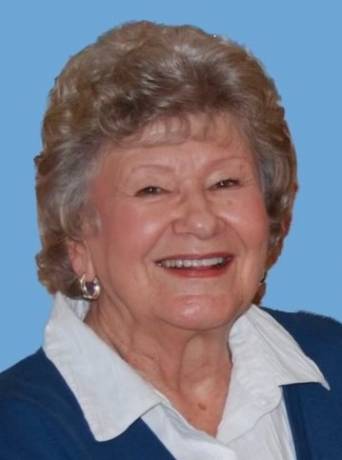 Lottie Starowicz (Wilkosz) of Batavia, New York passed away with her family by her side on December 12, 2022 at the age of 89.  She was born in Batavia on July 27, 1933 to father Leon Wilkosz and mother Bertha Wilkosz (Wrobel).  She lived in the same house she was born in for almost her entire life. Lottie was married to her husband, Paul Starowicz, for 67 years.  They had a long and happy life together. Paul passed away on January 10, 2022.  
Lottie was the youngest of three brothers (Leo, Stephen, and Edward), and two sisters (Ann Adamczyk and Helen Balonek). Lottie worked at the Batavia Daily News, and then at Jackson Elementary School as a lunch and teacher's aide for over 20 years.  Her former students approached her in town for years after her retirement because of her kind and caring ways. She loved spending time with her children, grandchildren, and great-grandchildren, and she appreciated the frequent and numerous visits with her several nieces and nephews. We will all cherish our memories of the fun times shared with Lottie and the way she made us all smile.
She is survived by children Gary (Deborah), James (Mary K), and Paul Jr. (Laura); grandchildren Sara (Brandon Doll), Becky, Kate, Lauren, Elizabeth, and Ryan; and great-grandchildren include Reece, Chloe, Thea, Reid, and Claire. 
Family and friends are cordially invited to share thoughts, condolences and fond memories on Sunday December 18th from 2:00 to 6:00 pm at the J. LEONARD McANDREW FUNERAL HOME, LLC, 2 Bogue Avenue in Batavia.  A prayer service will be held at the funeral home at 10:00 am on Monday December 19th, followed by an internment service at St. Joseph's Cemetery Mausoleum on Ellicott St. in Batavia.  
In lieu of flowers, donations may be made to the Crossroads Comfort Care House, 11 Liberty Street, Batavia, New York, 14020 or a charity of your choice. The family would like to thank the Crossroads House staff and volunteers, who provided Lottie with wonderful care during her final days.
Expressions of sympathy may be shared with the family at www.mcandrewfuneralhomes.net.
ARRANGEMENTS WERE ENTRUSTED TO THE J. LEONARD McANDREW FUNERAL HOME, LLC, 2 BOGUE AVE., BATAVIA, NY 14020. RONALD KONIECZNY II, DIRECTOR.