September 23, 2015 - 8:29am
Lucas S. Dillon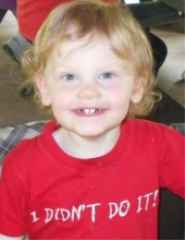 Lucas S. Dillon, 2, of Perry died on Monday September 21, 2015 at the Wyoming County Community Hospital in Warsaw.  He was born on August 25, 2013 in Warsaw the son of Jeffery S. Dillon and Valerie A. Halstead. He is preceded in death by a Maternal Great Grandma: Marcy Halstead, Maternal Great Grandpa: Robert Altoft, and Paternal Great Grandparents: Guy (Mary Etta) Dillon.
Lucas was always such a happy boy and had an infectious laugh." He enjoyed music, playing patty cake with family members, kicking a soccer ball around, and watching movies. His favorite movie was Monsters University. He loved Winnie the Pooh. His favorite meal was spaghetti and Pizza.
He is survived by his Parents: Jeffery S. Dillon and Valerie A. Halstead of Perry, a Brother: Timothy Dillon and Sister: Addison Dillon both at home, Maternal Grandparents: Rick and Mary Jane Halstead of Perry, Paternal Grandparents: Scott Dillon of Penn Yann, Dana (Ed) McCloud of Dundee, Maternal Great Grandma: Elcy Altoft of Warsaw, Maternal Great Grandpa: Larry Halstead of Perry, a Aunt: Jennifer Dillon of Dundee, 3 Uncles: Tom Halstead of Perry, Adam (Vanessa) Halstead of Hackettstown, NJ and Justin Dillon of Dundee, along with many Great Aunts, Uncles and Cousins.
Family and friends may call from 2-4 and 7-9 pm on Saturday September 26th and from noon – 1pm on Sunday September 27th at the Eaton-Watson Funeral Home, LLC. 98 North Main St. in Perry where funeral services will follow at 1pm. He will be laid to rest in LaGrange Cemetery in Perry.
In lieu of Flowers memorials may be made to the family. For more information please call (585) 237-2626 or to leave a message of condolence please visit www.eatonwatsonfuneralhome.com. Arrangements completed by Eaton-Watson Funeral Home, LLC. 98 North Main Street Perry, New York 14530.