Image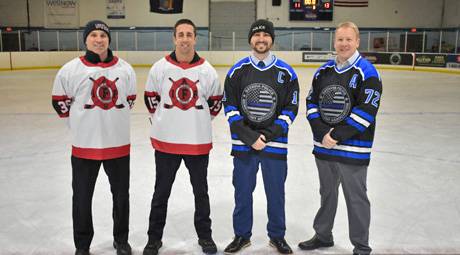 Press release:
This Sunday, Jan. 8, at 6:30 p.m., the City of Batavia Police Department and Fire Department are squaring off for a hockey match-up. 

The two agencies have battled it out on the softball diamond in years past. 

The game will take place at the David M. McCarthy Memorial Ice Arena. 

The board of directors at the ice rink has gone above and beyond to make this event both successful and memorable.

Robbie Nichols (owner of the Batavia Muckdogs) brought this idea to both departments.  Nichols hosted similar events in Binghamton.  Marc Witt (employed by Nichols and the Muckdogs) has taken lead on organizing the game. 

The doors at the ice rink will open at 5:30 p.m.  Patrons will be welcomed by some high-energy music to set the tone for the evening.   The teams will take the ice for warm-ups around 5:50 p.m.

At around 6:30 p.m., the show starts.  Team introductions will have all patrons on their feet.  The National Anthem is being played by Miles Meyer on electric guitar.  Puck drop is scheduled for 6:35 p.m., directly after the ceremonial puck drop. 

The ice rink secured a one-day liquor license and will be stocked with your favorite food/beverages.  The night will include 50/50 drawings.  Staff is still trying to work out the logistics of the fan favorite "chuck a puck."  The Batavia Rampart Mite Teams will keep fans entertained by playing during intermissions. 

All proceeds will benefit the David McCarthy Memorial foundation.    
Submitted photo.