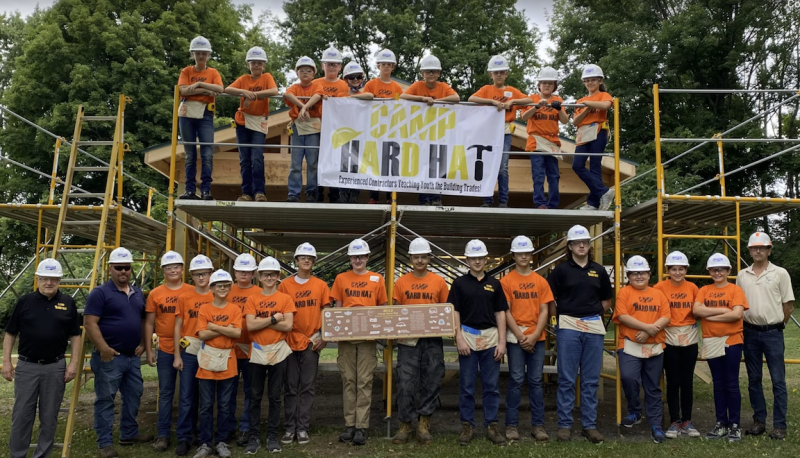 Press Release:
Camp Hard Hat, a week-long day camp that provides local students ages 12-15 the opportunity to learn and participate in community-based construction projects has expanded from two to seven locations for the 2023 summer and has space available at each location in Genesee, Wyoming, Livingston, and Monroe counties.

As a result of the success of the program over the past decade, 400 students have participated have completed over 10,000 hours of training and learning, organizers decided to expand into Monroe and Livingston Counties and are already working on expanding to even more locations throughout the Western New York region for 2024.

Camp Hard Hat is a collaboration between the Genesee County Business Education Alliance (BEA) and Livingston Associates, a business consulting firm that offers a unique range of specialized business infrastructure solutions. Courses are taught by BOCES Building Trades instructors and past Camp Hard Hat graduates. 

Campers are taught the principles of design and construction, project safety, and the power of teamwork. These skills and hands-on construction practice will propel the campers into future careers. 

"Livingston Associates is an active partner in construction-related workforce opportunities throughout our community and Genesee and Wyoming County officials have built an effective youth workforce model that others want to be a part of," said Anthony DiTucci President and CEO of Livingston Associates. "Camp Hard Hat provides an opportunity for area youth to learn about the many career path opportunities available in the construction and skilled trades industry."

The camps run Monday through Friday from 9 a.m. – 3 p.m. daily on the following dates and locations:

July 10 – 14 at the Wyoming County BEC at Perry Park (Warsaw, NY)
July 17 – 21 at the Lollypop Farm (Fairport, NY)
July 24 – 28 at the Genesee Country Village and Museum (Mumford, NY)
July 31 – August 4 at Genesee County Park (East Bethany, NY)
August 7 – 11 at Monroe Community College FWD Center (Rochester, NY)
August 14 – 18 at Monroe 2 BOCES (Spencerport, NY)
August 21 – 25 at Rochester Rotary Sunshine Camp (Rush, NY)

The program was originally created by the Genesee County Business Education Alliance in 2013. 

"Our goal as workforce leaders is to introduce students to as many careers and workforce opportunities that they may not even be aware of as a majority of the skills offered through Camp Hard Hat are not available within our local school districts," said Genesee County BEA Director Karyn Winters.

"Not only are we providing students career exploration opportunities, but also instilling practical life skills that they will take with them whether or not they decide to take on a career in construction or skilled trades."

Sponsorships opportunities are still available for Camp Hard Hat, which help cover the cost of tools, equipment, instructors, transportation, lunch, and full camp scholarships for individuals that qualify.

There are sponsorship opportunities for the Toolbox ($5,000), Toolbelt ($2,500), Hammer ($1,000) Saw ($500), Flashlight ($250), and Nail ($100) levels. Businesses and individuals may also sponsor a camper.

Registration is open for all seven locations and is offered at $95/camper with full scholarships available to low-to-moderate families that qualify. Visit https://www.camphardhat.org/about-1-1 to learn more or register today!