August 27, 2021 - 7:57am
Genesee Valley BOCES 'Boot Camp' produces five students ready for the next step in their careers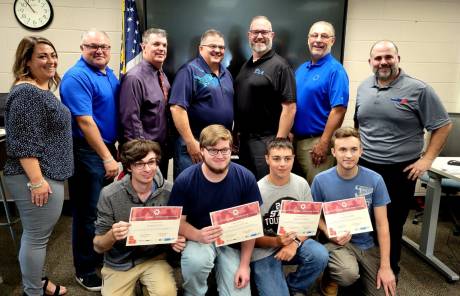 Press release
Students in the inaugural Genesee Valley Pre-Apprenticeship Boot Camp graduated Thursday, with four of them preparing to enter full apprenticeship programs and a fifth heading to a technician training program.
Participants split their days at the boot camp's six-week electro-mechanical technician training program between on-the-job training at local employers and hands-on training on Amatrol equipment in the Genesee Valley BOCES expanding electro-mechanical lab.
The boot camp is supported by the Genesee Valley BOCES, Rochester Technology Manufacturers Association, Finger Lakes Youth Apprenticeship Program, SUNY Genesee Community College, American Apprenticeship Initiative of Western New York, GLOW Workforce Development Board, Genesee County Economic Development Center and other partners.
Top photo: Front from left, Tom Pelino, Cole Sullivan, Jack Duyssen, and Eli Hopkins; back, Maggie Poray, GV BOCES Batavia Campus executive principal; Chris Suozzi, GCEDC; John McGowan, GCC; Rich Monroe, ElectroMechanical Trades Instructor at the GV BOCES Batavia Campus ElectroMechanical Trades instructor; Jon Sanfratello, GV BOCES director of Instructional Programs; Bob Coyne, RTMA; Rich Turner, FLYAP.  Matthew Bills also graduated from the Boot Camp. Photo by Alecia Kaus.