Image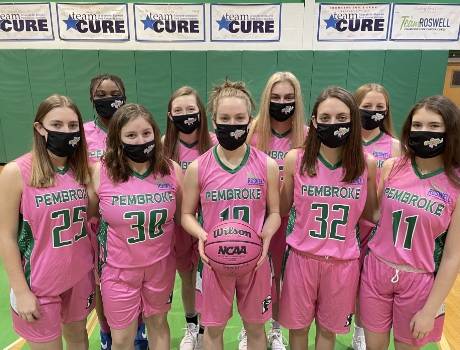 Press release:
The Pembroke Jr./Sr. High School Girls Basketball Team is currently organizing their 10th annual Shooting For A Cure! game in support of funding research efforts at Roswell Park Comprehensive Cancer Center. 
We're extremely excited that we will be able to help raise funds and awareness for cancer research at Roswell Park.
Over the past nine seasons, our small community has raised more than $152,000 for cancer research at Roswell Park and we hope to uphold this benevolent tradition. Shooting For A Cure! has become one of Roswell Park's largest community-based fundraising events.
This year, the team hopes to break the $200,000 mark in total funds raised since the event's inception, setting their most ambitious goal to date.
Due to current COVID-19 restrictions we will not be able to pack the hallways or the gymnasium as we've always done in the past; however we're trying to take a creative approach!
This year's game will be Pembroke vs. Oakfield-Alabama starting at 7 p.m., Friday, March 5 in the Pembroke high gym, located at the corner of routes 5 and 77 (8750 Alleghany Road).
Due to current statewide COVID-19 restrictions, admission to the game is by school-issued passes only, with two immediate family members per player in attendance.
This year, the team hopes to break the $200,000 mark in total funds raised since the event's inception, setting their most ambitious goal to date.
The team is currently accepting online donations in support of Shooting For A Cure! To make a donation, please visit: http://bit.ly/donateshootingforacure
There will be several other ways to support the cause this year. The team has partnered with 26Shirts from Buffalo, a local company that designs and sells apparel items to benefit those in need. To date, 26Shirts has raised $1,057,788 for local families, foundations and organizations.
This year's apparel sale will run through Sunday, Feb. 14th and all proceeds will directly benefit cancer research at Roswell Park. If you're interested in limited edition, 10th annual Shooting For A Cure! gear, please visit: http://bit.ly/productsshootingforacure
Shooting For A Cure! began 10 years ago when the Pembroke Girls' Varsity Basketball team approached then Head Coach Mike Wilson with an idea to show their support for Toni Funke, wife of beloved coach and Pembroke teacher Ron Funke in her battle against breast cancer. They wanted to play a game in her honor to raise money for cancer research.
Since then, Shooting For A Cure! has blossomed into a huge community event attracting supporters from throughout Western New York. Regardless of how large the event has grown, the goal remains the same: show support for community members in the fight against cancer.
Toni Funke, who initially inspired the Shooting For A Cure! event said, "The most important part of the event is feeling the love and support from the organizers of this event, the team and the entire community. From the beginning, Pembroke as a whole has really shown that we've got each other's backs. Cancer affects everyone. We're all in this together. We stand together as a community, willing to fight the good fight."
Toni's husband, and current Pembroke Coach Ron Funke added, "I take this game very personally. Shooting For A Cure! started with Toni's diagnosis and that original team wanting to show their love and support for Toni and our family. It's the foundation of it all. That act of love then, and still to this day, is extremely powerful; it's overwhelming. To watch how this event has continued to grow every year inspires me."
When reflecting on Shooting For A Cure! and its impact, Ryan Winchip, Pembroke's athletic director said, "I don't think it's about how much money gets raised; it's more about honoring the people that have battled this disease and bringing a community together as well as the special moments that people share -- tears of joy, tears of sadness, taking a minute to remember family members, and honoring members of the community on the court.
"I think it's all about that halftime ceremony and getting to recognize those brave survivors along with remembering our loved ones that are no longer with us."
WBTA has jumped in to help with an AM/FM broadcast of the game. Pembroke will be setting up a live video feed of the game from the gymnasium.
Mr. Brown, our dedicated Snack Shack coordinator, has been reaching out to local food trucks in hopes of setting up a "Food Truck Rally" in support of the event. The Cheesy Chick, Buffalo Best Grill, Center Street Smokehouse, and a few additional trucks have volunteered to set up in the school parking lot on March 5th from 4-8 p.m. and will not only serve food to our community, but also donate a percentage of proceeds to cancer research at Roswell Park.
Additional fundraising ideas remain in the works as the team and event organizers hope to put together innovative raffle options for both in-person and virtual spectators and supporters.
Generous donors have continued to step up, donating newly released Apple products, Amazon gift cards, autographed sports memorabilia, and gift certificates to local restaurants, themed-baskets, and handcrafted items. Walt Disney World again has donated Park Hopper passes to our event, and Pesci's Pizza and Wings recently donated an "Office Pizza Party for 12" as a way to help raise funds for cancer research.
The team has considered taking a themed approach to this year's fundraising effort; however details remain fluid as they continue to coordinate the next phase of this effort.
The 2020-2021 Shooting For A Cure! business and organization donors list includes:
26Shirts
ACES Foundation
ADPRO Sports
Buffalo Best Grill
Buttercrumbs Bakery
Center Street Smoke House
Clarence Deli
Dollars for Scholars
Dry Creek Group
Genesee Feeds
Hershey's Ice Cream
Insty-Prints
Knockaround Sunglasses
Linda's Family Diner
Northtown Automotive
Original Pizza Logs
Pesci's Pizza and Wings
Roswell Park Alliance Foundation
Sincerely Kayla
Terry Hills
The Cheesy Chick
Tim Hortons
Walt Disney World
WBTA
YMCA of Batavia
​We remain in need of donation items for our raffle, as well as monetary donations in support of our Shooting For A Cure! mission that directly funds cancer research at Roswell Park.
Community members, local businesses or organizations wishing to donate to this year's event should contact Mike Wilson by calling (716) 949-0523.
For more information, please go to:
Pembroke Central School District: Shooting For A Cure!
ABOUT PEMBROKE HIGH SCHOOL GIRLS' VARSITY BASKETBALL TEAM: The Pembroke High School Girls' Varsity Basketball Team is comprised of nine young women. This season's captains are Serene Calderon and Emily Peters. The Lady Dragons are coached by Ron Funke and Guy Gabbey. The team colors are green, white and black. The team began Shooting For A Cure! as an annual event in 2011, and they are committed to the hard work and dedication it will take to win the battle against breast cancer.
ABOUT ROSWELL PARK COMPREHENSIVE CANCER CENTER: According to its website, "All donations made to Roswell Park are managed by the Roswell Park Alliance Foundation, a 501(c)(3) not-for-profit organization that ensures that every donation is put to the best possible use. The Alliance Foundation has been recognized numerous times for these efforts."
Top and bottom photos: Front -- Karli Houseknecht (25), Allyson DuBois-Rider (30), Serene Calderón (10), Emily Peters (32), Sydney Johnson (11). Back: Ariel Moss (50), Allie Schwerthoffer (14), Nicole Von Kramer (23), Isabel Breeden (2).
Image