Image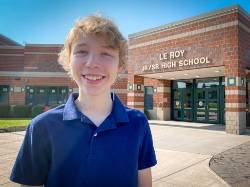 Submitted photo and information:
Today officials of the (NMSC) announced the names of approximately 16,000 students in the 66th annual National Merit Scholarship Program.
Le Roy Central School District proudly announces that Le Roy Jr.-Sr. High School senior Andrew "AJ" Schmidt (inset photo, left) has been named a Semifinalist in the 2021 National Merit Scholarship Competition!
These academically talented high school seniors have an opportunity to continue in the competition for more than 7,600 National Merit Scholarships worth more than $30 million that will be offered next spring.
More than 1.5 million juniors in about 21,000 high schools entered the 2021 National Merit Scholarship Program by taking the 2019 Preliminary SAT/National Merit Scholarship Qualifying Test (PSAT/NMSQT), which served as an initial screen of program entrants.
Nationwide, the pool of semifinalists represents less then 1 percent of U.S. high school seniors, and it includes the highest-scoring entrants in each state.
"I am speechless, all of my hard work has led up to this point!" AJ said. "I am very honored to be in this position."
To be considered for a Merit Scholarship® award, Semifinalists must fulfill several requirements to advance to the Finalist level of the competition. Over 90 percent of the Semifinalists are expected to attain Finalist standing, and more than half of the Finalists will win a National Merit Scholarship, earning the Merit Scholar® title.
"AJ does an outstanding job both in the classroom and the school community," said Jay Laitenberger, AJ's AP U.S. History teacher/coach. "He always puts his best effort into everything he does and it shows in all aspects.
"It is a true privilege to work with a student-athlete like AJ and see him grow throughout the year. It was a lot of fun to see him take on the challenge of cross-country and track last year and excelling in it as well."
Austin Dwyer, Le Roy Jr.-Sr. High School counselor, said "I could not be more proud of AJ for being selected as a National Merit Scholarship semifinalist and could not think of anyone more deserving of such an honorable recognition. AJ's success in the classroom is a pure reflection of his work ethic and desire to achieve at an exceptionally high level.
"His passion to discover and continuously learn new things is inspiring to not only his peers, but also the adults in our building. It is a privilege to serve as his high school counselor and I am so excited to see what the future holds for him.
Tim McArdle, principal Le Roy Jr.-Sr. High School, said "We are so proud of AJ as he continues to excel and reach new heights. His work ethic and attention to detail are remarkable both in the classroom and beyond.
"AJ is an amazing Knight who continues to challenge himself both in and out of the classroom. We cannot wait to see what life has in store for him!"
About National Merit Scholarship Corporation
NMSC, a not-for-profit organization that operates without government assistance, was established in 1955, specifically to conduct the National Merit Scholarship Program.
Scholarships are underwritten by NMSC with its own funds and by approximately 400 business organizations and higher education institutions that share NMSC's goals of honoring the nation's scholastic champions and encouraging the pursuit of academic excellence.