March 22, 2022 - 10:49pm
Le Roy trustees approve David Russell as new principal for Jr/Sr high, starts April 25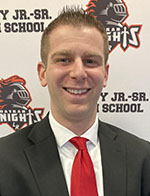 Press release:
On Tuesday, March 22, 2022, the Le Roy Board of Education unanimously approved Dr. David Russell as the new Jr/Sr High School Principal. Dr. Russell will start officially on Monday, April 25, 2022.

Dr. Russell is currently the assistant principal at the Cosgrove (Spencerport) Middle School, a position he has held since 2019. Previously he was the principal of the Western Wayne Summer Academy, a Wayne-Finger Lakes BOCES program. Dr. Russell was also a special education teacher at Sodus Central School District and the True North Rochester Preparatory Charter School.

"We are very excited to bring Dr. Russell's energy and passion to collaborate with our students, teachers, and parents," said Merritt Holly, Superintendent of Schools. "He is a strong instructional leader who has consistently made positive connections with all stakeholders in his previous experiences. We look forward to Dr. Russell's leadership as we continue to follow our vision to cultivate a world-class community of learners who exceed core local, state, national, and international standards."

The mission of the Le Roy Central School District is to provide an exceptional, high-quality educational environment where all learners are empowered to succeed.

Dr. Russell earned a Bachelor of Arts, History, Adolescent Education from SUNY Geneseo, a Master of Education from Roberts Wesleyan College, and a Doctor of Education from the University of Rochester. Along with his special education certification, Dr. Russell also holds New York State certifications as a School Building and School District Leader.

The district posted the position on February 2, 2022, and 17 candidates applied. First-round interviews with four applicants were held on Friday, March 11, 2022. A 15-member committee consisting of students, teachers, parents, administration, and board members narrowed the field to two finalists. Second-round interviews with the administrative team took place on Thursday, March 17, 2022. A final interview with the superintendent was conducted on Friday, March 18, 2022.

Dr. Russell takes over for Mr. Tim McArdle, who left on Friday, February 4, 2022, to take an assistant principal position at Caledonia-Mumford Central School District. The district would like to sincerely thank Mrs. Beth Patton, who has been interim principal since Monday, February 7, 2022.