March 23, 2022 - 4:50pm
Le Roy Wrestling Club wins tournament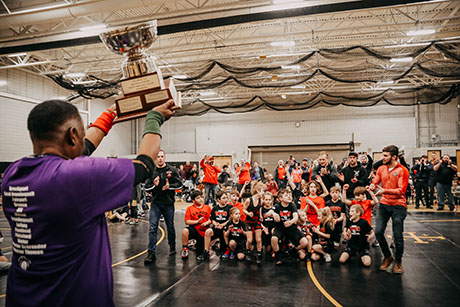 Press release:
On March 2nd, 2022, the Le Roy Wrestling Club took home the Greater Rochester Youth Wrestling League Championship!

Team Le Roy entered the Western Division with a 6-0 record, once again allowing the Le Roy team to display their athletic skills amongst the best of the Greater Rochester Youth Wrestling League (GRYWL).   

In dominant fashion, Le Roy exhibited their extensive skills versus Hilton, Brockport, and Greece in three separate battles, allowing the team to advance.  Their opponent in the championship semi-finals was Webster Thomas.   

Le Roy won 40-17 over Webster Thomas to advance to the final championship bracket vs. HFL.

HFL was a tough team, but fell short as Le Roy won 47-18 for its first of many anticipated future GRYWL championships!

Le Roy's success is attributed to a unified village collaborating for the greater good of developing youth wrestling.   A huge thank you to Sean Valdez and D&R Depot for their amazing facility and support.    Jonathan Lauricella (coach), Troy Ireland (coach), Zach Condidorio (coach), Matthew Wojtaszczyk (coach), Cory Beardsley (coach), Rob Stiles (coach) and several parents have assisted as well in every capacity from coaching, managing concessions, and caring for one another throughout the season.   Congratulations to the Le Roy Wrestling Club!
Photos by Mary Winseman