February 3, 2022 - 1:34pm
Officer William Yung completes training, welcomed into ranks of Batavia PD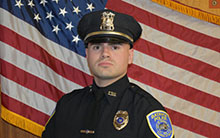 Press release:
On January 1st, 2022 Officer William Yung was assigned to the midnight shift as Batavia Police Department's newest police officer.

Officer Yung was hired in May of 2021 and attended the Alfred State Police Academy hosted at Alfred State College in Alfred, N.Y. He completed the NYS Division of Criminal Justice Services Basic Course for Police which consists of a minimum standard of over 700 hours of training as established by the Municipal Police Training Council (MPCT). The Basic Course for Police Officers covers a wide range of topics including but not limited to, Ethics & Professionalism, Cultural Diversity, Bias-Related Incidents, Professional Communication, Persons with Disabilities, Crisis Intervention, Use of Physical Force & Deadly Force, Active Shooter Response and Decision Making. Officer Yung also had to complete numerous Reality-Based Training Scenarios.

Yung then went on to complete the Department's Field Training Program, which consists of an additional 400+ hours of training to teach recruits appropriate Department policies and procedures. Officer Yung also familiarized himself with the community, businesses, and streets during the field training process. He was assigned to all shifts and multiple Field Training Officers during the field training program.

Prior to becoming a City of Batavia Police Officer Bill served as a Public Safety Officer for Medaille College. He is a graduate of Hilbert College with a Bachelor of Science in Criminal Justice and has volunteered numerous hours with a Boys and Girls Club.

Please join the Department in welcoming Officer Yung!