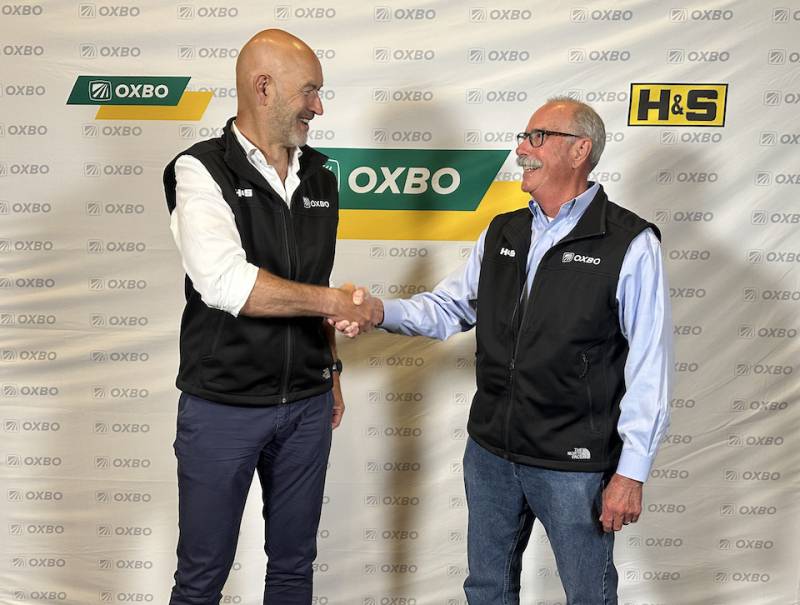 Press Release:
Oxbo is expanding its presence and product portfolio in the hay and forage industry, through acquiring H&S Manufacturing in Marshfield and Clintonville, Wisconsin. The acquisition is designed to foster high-quality, customer-focused product innovation, to ensure customer service, and to strengthen the Oxbo and H&S position in the global hay and forage market.

"H&S products complement Oxbo's industry-leading hay and forage merger product line; adding H&S to Oxbo's hay and forage business allows us to better serve our mutual customers now, and in the future," commented Joe Perzia, COO of Oxbo.

"The H&S high quality products, dealer network, manufacturing facilities, and dedicated management and employees supplement our existing hay and forage business and will help us grow in this critical market
segment," stated Roel Zeevat, Oxbo's CEO.

"We knew an acquisition by Oxbo would deliver enhanced value for our customers. Oxbo's commitment to reliability, innovation, and customer service are a perfect fit for H&S products and customers," commented Chris Heikenen, former owner of H&S Manufacturing.

Over the last 30 years, Oxbo has continued to grow through acquiring manufacturers in specialty agricultural markets. With each acquisition comes Oxbo's commitment to drive customer value through innovative products and industry-leading customer service. 

"The acquisition by Oxbo is an exciting next step for the H&S brand; I'm confident Oxbo's customer-focused mindset will benefit our customers as we grow the business together," said Craig Harthoorn, president of
H&S, who will remain onboard and manage the newly expanded hay and forage business unit for Oxbo.

With the addition of H&S, Oxbo continues to Optimize farming together and aims to be the clear customer choice in the hay and forage market.

H&S will continue operating at its existing facilities. Customers will continue to purchase products and parts from their existing H&S or Oxbo dealer.

Going forward, and in partnership with its dealer network, Oxbo will further optimize the offering for its customers in all regions served. "We are committed to serving our valued customers," said Zeevat.

Oxbo operates seven additional manufacturing facilities around the globe including its global headquarters in Roosendaal, the Netherlands, and operates 13 sales and service locations.
Image