January 26, 2021 - 1:45pm
Pembroke Girls Basketball Team is planning 10th annual 'Shooting For A Cure'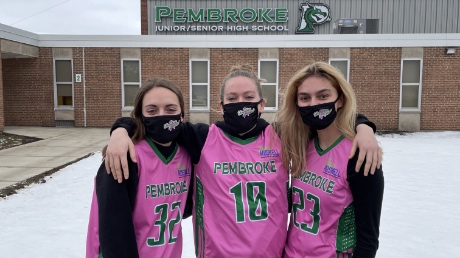 Submitted photos and press release:
The Pembroke Girls Basketball team is currently organizing their 10th annual "Shooting For A Cure!" game in support of funding research efforts at Roswell Park Comprehensive Cancer Center.
Due to the current COVID-19 restrictions, no official game date has been set; however we're considering various alternative ways in which to maintain this benevolent tradition as we work alongside our county health department.
Over the past nine seasons our small community has raised more than $152,000 for cancer research at Roswell Park. 
This year we hope to get creative, utilizing virtual alternatives to try and make a difference in our community. We would greatly appreciate your support in sharing our "Shooting For A Cure!" mission with the community. 
We're currently on Facebook, Twitter, Pinterest and Instagram as well as the Team Roswell website. Please don't hesitate to reach out to us via e-mail, phone or social media if you have any questions for us or would like to get involved.
We thank you for your continued support and hope that in the weeks ahead we can solidify a game date and additional details as they relate to fundraising and prizes that will be raffled off.
-- The Pembroke Girls Basketball Team & Event Coordinator Michael Wilson
Both photos, from left, are the three seniors who will be participating in this year's event: #32 Emily Peters, #10 Serene Calderón and #23 Nicole Von Kramer.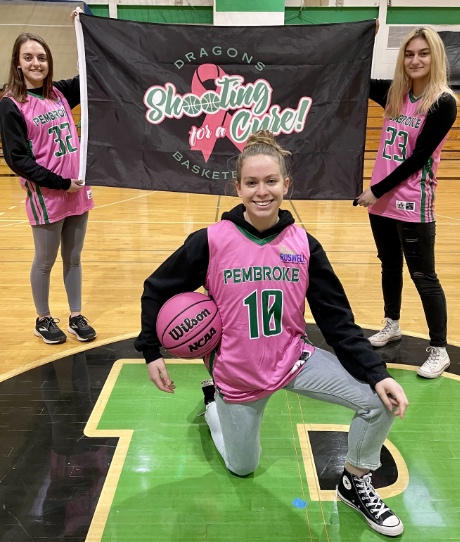 Letter from Roswell Park Alliance Foundation:
Dear Pembroke Jr./Sr. High School Lady Dragons JV & Varsity Basketball:
Congratulations! I am happy to inform you that the Roswell Park Alliance Foundation has approved your request to host a fundraising event to support Roswell Park Comprehensive Cancer Center.
The information we have authorized for your event is:
Event: Shooting for a Cure!
When: Spring 2021
Where: Pembroke Jr./Sr. High School
Why: To support cancer research and patient-care programs at Roswell Park
We are grateful and honored that you have chosen the Alliance Foundation to be the recipient of your fundraising efforts. It is donors, like you, that make it possible for Roswell Park to continue our mission to eliminate cancer s grip on humanity by unlocking its secrets through personalized approaches and unleashing the healing power of hope.
Welcome to Team Roswell!