November 16, 2016 - 7:18pm
Video coaching teaching initiative takes hold in Genesee Valley Boces districts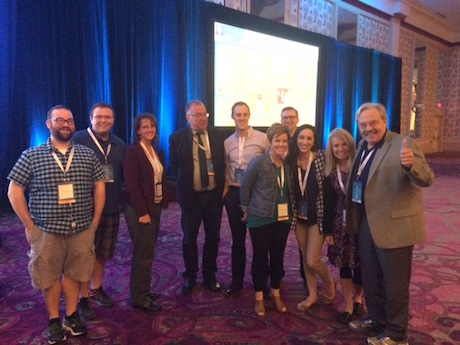 Pictured: Instructional coaches of the Genesee Valley Educational Partnership with Jim Knight, director of the Kansas Coaching Project. (Courtesy of Jim Thompson.)
A new program for the improvement of teaching techniques has begun to take root in the Genesee Valley Boces school districts. The new program connects educators with trained coaches who review video footage of teaching sessions and provide commentary and advice to improve quality and effectiveness.
Jim Thompson, director of Instructional Coaching Services at Genesee Valley Educational Partnership, began installing the program during the 2014 school year. The program has since grown from 10 teachers in its first year, to being used in over nine districts in the area. Jim has worked as the primary coach since its inception, and is currently working on training educators in each district to become coaches themselves.
"We strive for excellent instruction, every day, in every classroom, for every student. That is our true north." Thompson said, quoting his mentor Jim Knight, director of the Kansas Coaching Project at the University of Kansas.
The program itself involves several stages. First, teachers will meet with coaches, in order to establish goals and develop a positive relationship between them. Next, the teacher submits a 15-20 minute video clip from a teaching session. The coach will then review the video multiple times, implementing time-stamped commentary, concluding with a meeting and review session with both the educator and coach in person.
Thompson emphasized the importance of the teacher-coach relationship in the program, as well as the program's non-evaluative nature, confidentiality and volunteer basis.
"The program is built on strong relationships and trust. We set up a relationship with teachers which not only generates trust, but also promotes a willingness on the part of both the teacher and coach to reflect on instruction and help improvement."
One school in which the program has found a receptive home is in the Byron-Bergen district, where superintendent Mickey Edwards has instituted it in both the secondary and elementary levels. As of now, 40 percent of teachers in the school have participated in video coaching, and the school has begun training its own coaches.
"We offer it to teachers to help them improve on their craft and delivery," Edwards said. "At Byron-Bergen, teachers are not done learning yet."
Edwards compared the program to the model presented by sports film study, saying that watching yourself teach and seeing what you do well and what you need to improve on – terms which the program refers to as "glows and grows" – is an eye-opening experience.
Diana Walther, an eighth-grade English teacher from the school, is currently being trained as a coach for the district. As an educator who has seen the program from the perspective of a teacher as well as a coach, she claims that it was one of the most effective professional development programs she has been a part of.
"It draws your attention to things you've never thought of before," she said. "Personally, I speak very quickly, so slowing down was something I needed to improve a lot."
Walther also echoed Jim Thompson's emphasis on the teacher-coach relationship. "Each session begins by getting to know each other," Walther said, "in order to identify goals."
Deborah Slocum, another coach from the Byron-Bergen district, says that her experience in the program also led to her desire to get involved.
"I had an epiphany, it was the most valuable professional reflection I've had over the past 24 years of teaching."
The school has enjoyed the benefits of the program, so much as to implement it into their quarterly evaluation process. Each teacher goes through four annual evaluations, which often include a supervisor sitting in on a class. This option allows teachers to present a video session with a coach as one of their four evaluations.
"This ties into a growth model, where teachers can hone their craft," Edwards said.
In the future, Edwards hopes to increase the size of the program to include many more coaches within the district.
"I'd like to see one in each content area, and a few at the elementary level."
The program is in what Edwards referred to as a "fledgling stage," and it will be evaluated at the end of the school year.