November 6, 2013 - 1:36am
GOP posts landslide sweep in crowded field for three City Council seats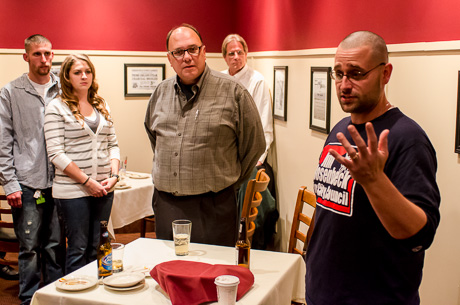 It was a clean sweep for the GOP in Batavia's race to fill three at-large seats on the City Council in a year when the party was facing a new challenge from local Libertarians for the first time.
Eugene Jankowski Jr., Brooks Hawley and John Deleo easily secured four-year terms on the council.
Libertarians Jim Rosenbeck and Lisa Whitehead finished eighth and ninth in the crowded field.
Hawley, the lone incumbent among the winners, got 1,179 votes, according to the still unofficial tally.
"We visited almost every street and home in Batavia," Hawley said. "People saw how dedicated we are and they believe we will use that dedication in City Council as well."
Hard work was part of the GOP strategy this year, said city Chair Matt Landers, who acknowledged the Libertarian presence on the ballot and the fact the new local party was out working hard helped motivate the Republicans.
"They were working very hard and they are an upstart group with a passionate base and we definitely took them seriously," Landers said.
Rosenbeck received 358 votes and Whitehead 243 votes. 
The low vote totals didn't discourage party Chairman Phil Ricci at all, who told the party members at their election headquarters at Larry's Steakhouse that Rosenbeck would become the committee chairman of the party's new city committee.
"We started with a small group of concerned, like-minded citizens, set with the task of creating an alternative to the existing political parties," Ricci said. "That little ragtag group grew into a solid core group of committed individuals who felt strongly enough about our core principles, and even stronger about the lack of real choice, to give it a go."
Jankowski, a former Batavia PD lieutenant, said after a hard-fought campaign, he's ready to get to work, serving his community in a new capacity.
"We work well together, people respect us and they want us to be their leaders in the community," said Jankowski, who received 1,269 votes.
Deleo, who garnered 1,309 votes, said the three winners will make a good team going forward, just as they did as campaign mates.
"We all have our own strengths and together it works for the best," Deleo said.
Rosenbeck remained upbeat about the Libertarian effort.
"It has been a success and we wish the GOP well," Rosenbeck said.
Rounding out the field were Diana Kisiel Kastenbaum, 586 votes, Thomas Clark, 552 votes, John Demske, 631 votes, and Rose Mary Christian, 406 votes.
Katenbaum, a Batavia native who moved away for many years and then returned to her hometown vowed to stay involved in her community.
 "I sit on a couple boards, Go-Art and Landmark Society, and I will continue working for the citizens of Batavia," Kastenbaum said. "As a citizen I can be as active as I choose to be and I hope to be."
For complete election results visit WBTA.com.
Top Photo (by Howard Owens): Phil Ricci speaks to Libertarian Party members.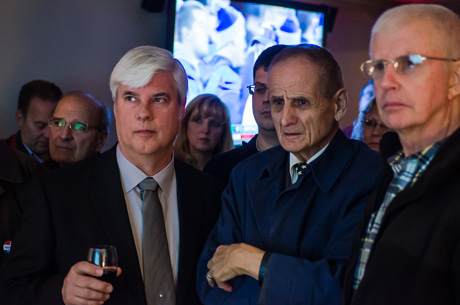 John Deleo, Joe Gerace and John Roach watch the election results get posted at the GOP headquarters for the night at City Slickers (photo by Howard Owens).
November 6, 2013 - 3:20pm
#3
It is interesting at the least, and pretty disheartening really, that in a pre-election Q&A put out by Howard Owens and The Batavian, the one issue that jumped right out at me was:
"If the choice came down to either A) raising taxes and maintaining the city's own police department and/or fire department; or, B) consolidating police protection with the city or going to some form of volunteer fire department, which option would you choose?"
http://thebatavian.com/howard-owens/qa-city-council-candidates/40094
... and now that the voting is finished, the 3 candidates who won [got elected] all responded to the above Question that they [in essence] wanted to keep the status quo which simply translates into = being ready and willing to "raise taxes" to do so.
Sad.
{The people get the government they deserve}