March 30, 2015 - 10:59am
Godfrey's Pond holds fourth annual Easter Egg Hunt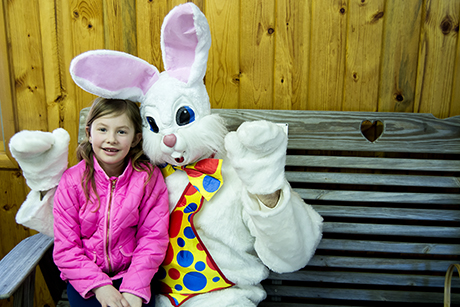 More than 70 children with there families attended the fourth annual Easter Egg Hunt at Godfrey's Pond yesterday. The club put out a couple thousand Easter eggs early before the event which started at Noon and continued through 2 o'clock. Cookies, drinks were provided to all who attended. Mike Hammon, caretaker of Godfrey's Pond, said the free public event has grown consistantly over the years.
Other activities included a petting opportunity with six baby chicks.
Two contests were held; one for who collected the most eggs and a coloring contest.
Abby Lampke was the winner of the coloring contest.  
Egg hunt winners were:  
Gold -- Adrian Laird
Silver -- Connor Schrane
Bronze -- Trevor Pahl
Photo above is 7-year-old Eliana Stringham with the Easter Bunny. Craig Gillard submitted the photos from Godfrey's Pond.