Image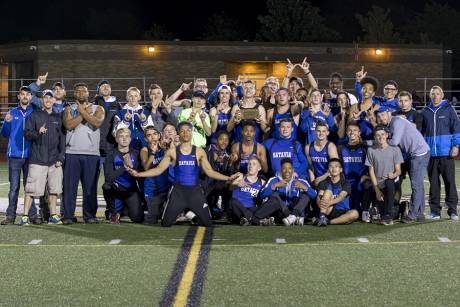 For the second year in a row, the Batavia Blue Devils boys outdoor track team captured the Section V title at the host school, Honeoye Falls Lima, yesterday evening. Batavia finished with 110 points over second place rival U-Prep, which scored 88 points.
Highlights of their success include junior Anthony Ray winning both the discus throw event at 43.81 meters and shot put at 16.54 meters, setting a new school shot put record. Senior Frederick Cunningham took third place in both the triple jump and high jump. Senior Andrew Mruczek took first in the long jump with 6.64 meters.
Boys relay teams placed third in both 4x100 and 4x400 and took second in the 4x8. Senior Campbell Anderson finished fourth in both the 800-meter run and pole vault and senior Sam Bartz took fifth in the pole vault. Julio Vazquez took second in the 110 meter hurdles and fourth in the 400-meter hurdles. Eric Davis took took in both the 400-meter hurdles and 100-meter dash. Andrew Mruczek took second in the 200-meter dash.
Last year sectional winners Batavia girls outdoor track team finished last night in third place overall with 63 points. Iaya Franklin finished second place in the 100- and 400-meter dash and first in the 200-meter dash. Claire Zickl finshed fourth in the 800-meter run. Batavia girls took first in the 4x400-meter relay. Sophomore Lizzie Cohen placed first in the pole vault. Senior Tanner Kolb finished third in the discus. Edmarie Calderon-Torres finished fifth in the pentathlon.
This marks Batavia track and field with their 29th Sectional Championship in program history.