March 26, 2015 - 7:44pm
"Think Spring" at the Home Show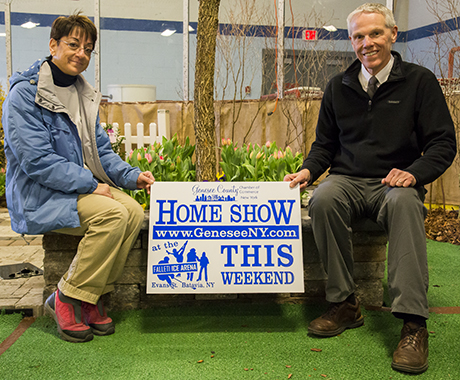 Pictured above are Batavia Chamber of Commerce members Kelly Bermingham, director of membership and special events, and Tom Turnbull, president of the Chamber, sitting in a garden landscaped by Ehrmentraut Landscape, Le Roy, who partnered with Cedar Street Rentals in their booth.
Think Spring is the theme for the second annual Genesee County Chamber of Commerce Home Show. The event kicks off from 5 to 9 p.m. at the Falleti Ice Arena. Discount tickets can be purchased from local businesses or at the Chamber of Commerce before Friday evening. Tickets at the door are $3 each and children 12 years and younger are free. More than 2,000 people attended last year.
More than 60 vendors and 80 booths will be on display. Get a jump on spring projects during the weekend event from 10 a.m. to 5 p.m. Saturday and 10 a.m. to 3 p.m. Sunday.