February 28, 2018 - 5:21pm
Batavia loses a close game in final minutes to HFL 45-40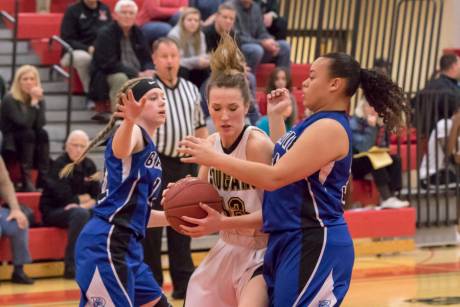 A tightly matched game #6 seed Batavia Lady Devils came out playing with heart and soul to the end versus #3 seed Honeoye Falls Lima last evening at Penfield High School. 
Batavia came out flat down by five points but Freshman Kenzie Reigle helped drive them to a 9-9 after the first quarter.
Second quarter Batavia went up on top leading by as much as four points 17-13 but HFL came to tie it before junior Jenae Colkey sunk a two-pointer to give Batavia a lead at the half 19-17.
Batavia came out of the locker increasing the lead by five points 23-18 but Freshman Hannah Selke hit four three-pointers in the quarter to help HFL carry a big lead 30-25 going into the fourth.
Batavia and HFL both exchanged fouls, lead changes and tied the game 36-36 until under two minutes left where Batavia came up short losing 45-40. 
HFL will play #1 seed Aquinas Friday at Blue Cross Arena in Rochester.
To view or purchase photos click here.