May 29, 2016 - 1:31pm
Batavia track brings home two sectional titles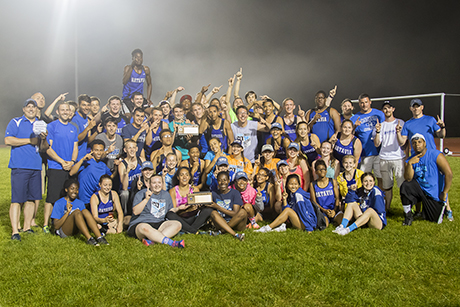 The boys and girls track teams from Batavia High School competed in the Class B Sectional Championships on Friday night, both earning hard fought victories.
The girls had an impressive 101 points, with Livonia coming in second place with 62. Kiaya Franklin had an unbelievable meet by winning the 100m in 12.51, the 400m in 57.69, and the 200m in 25.97. The girls 4x800 relay of Sophia Dinehart, Briana Bromley, Claire Zickl and Maddi Murray won with a time of 10:02.31. Rachel Denise won the pole vault with a jump of 9-0.
The boys had a much closer meet, scoring 124 points over defending indoor and outdoor champion Greece Olympia, which finished with 120. Anthony Ray continued his dominance in the throwing events by winning the shot with a throw of 49-3.25 and the discus with a throw of 146-8. Adonis Davis helped to seal the win two late victories in the high jump with a height of 6-4 and in the triple jump with a leap of 44-7.75. The boys meet was very competitive with the title still up for grabs with only a few events remaining.
Full results from the meet can be viewed at:
http://live.yentiming.com/#/results/meet/270
These sectional championships are the 25th team championships for Batavia track and field, both indoors and outdoors, since 2003. Both the boys and girls teams represented their school and community with a great deal of determination and poise throughout the competition. Congrats to the 2016 Track and Field Sectional Champions, the Batavia Blue Devils!
Story submitted by: Batavia Boys Head Coach Nicholas Burk, who is also pictured below receiving the boys Section V trophy from a track official.
Photos by: Steve Ognibene Photography