December 3, 2015 - 10:16am
Don Carroll's Toys for Kids charity this Saturday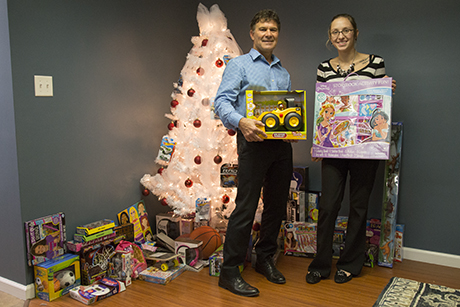 Pictured above is Batavia chiropractor Dr. Tom Mazurkiewicz and his secretary Brittany Moretti, who are continuing the legacy of Don Carroll.
Mazurkiewicz along with Beth and Brian Kemp from T-Shirts Etc. have joined together to host the annual Toy Drive for Kids at his office, Mazurkiewicz Family Chiropractic 184 Washington Ave., Batavia, this Saturday from 9 to 11:30 a.m.
Tom has been involved for more than 25 years helping Don, who asked him to carry the tradition for him and keep it going in his memory. Mazurkiewicz said that anytime between now (during office hours) until the close of Monday, donors are welcome to bring in an unwrapped toys for ages 2 to 15.
If you come to the event this Saturday, he will offer a free chiropractic adjustment at no charge.
Local nurses from Batavia and Oakfield school districts have provided names of 52 children who will receive the gifts at a private party that is hosted by the Kemps.  
For questions, call (585) 343-9316.
December 3, 2015 - 10:28am
#1
Thank you Dr. Tom, Beth and Brian for keeping this great tradition going!
December 3, 2015 - 7:02pm
#2
I love reading these kind of articles.