February 26, 2020 - 11:12am
Luckey, Condidorio and Tresco help Le Roy advance to second round of sectionals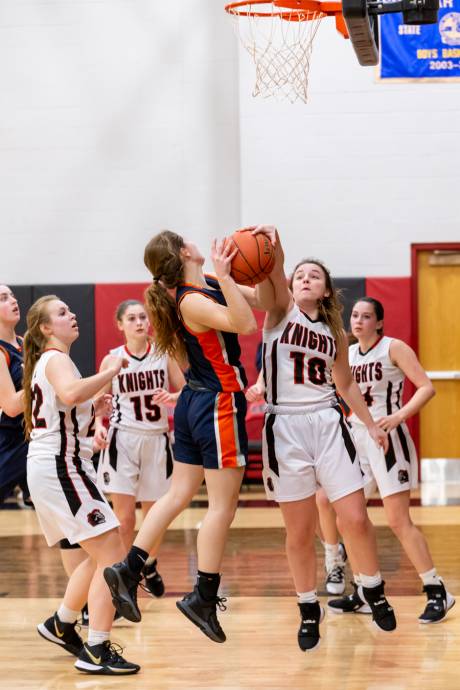 Last evening at Le Roy High School the Oatkan Lady Knights advanced to the Class B2 quarter finals with a win over Attica Blue Devils 69-57. The Knights jumped out to a 12-point lead 27-15 led by Bryn Luckey and a three-pointer from each Hailey Johnson and Jillian Curtis. 
Through the second quarter, Attica held better defense and juniors McKenna Jarnot and Mary Weber both added three-point buckets to keep the Blue Devils in the half only down by 10 points.
The Knights held a strong defense keeping Attica's top scorer McKenna Jarnot scoreless in the quarter, which kept the momentum scoring points from Luckey, Condidorio and Logsdon.  Score 52-37 after three quarters.
Attica, backed against defeat, did not give up and Jarnot hit four three-pointers in the final quarter to bring the Devils within six points. But the Knights sophomore guard Kailyn Tresco answered back with two three-point buckets of her own. 
Le Roy's Brynn Luckey finished with 25 points; Amara Condidorio and Kailyn Tresco each had nine points. McKenna Jarnot scored 21 points, Weber 13 points for the Attica Blue Devils.
The Le Roy Knights play this Friday against second seed Avon on their home court, game time 7 p.m.
To view or purchase photos click here.