March 6, 2022 - 11:18am
Pavilion holds lead in fourth to reclaim Class C2 sectional title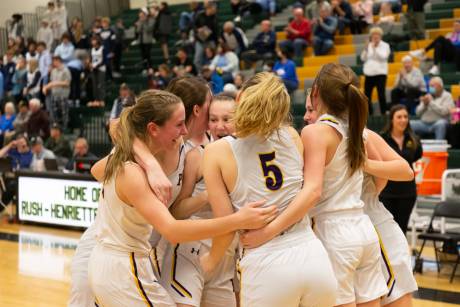 The Lady Gophers reclaimed the sectional title from two years ago with a 46-42 victory over Gananda yesterday afternoon at Rush Henrietta High School. 
Shea Amberger lead the way with 17 points and Laura Kingsley came up big in the fourth scoring at some key moments when the Gophers needed it most.
"Being down by seven in the first quarter was not the opening game plan, we were happy to be going in to the half up two", said head coach Ben Schwenebraten. Our defensive effort in the second quarter was very good, which allowed us to regain the lead."
At the half Pavilion had a two-point lead 21-19.
Karlee Zinkievich scored two three-pointers on the night of which one in the third help give Pavilion a narrow lead going into the fourth.
"Each timeout in the fourth, we reemphasized their defensive effort and to play with confidence on offense. It was important to take care of the ball against the press so that we could get a good look at the basket."
The Panthers Kaylee Marah scored eight in the fourth and 15 points in the game but was not enough to come close at the end.  Also, scoring was Nadia Martznick with 14 points.
This is the Gophers' second title in the last three seasons.
To view or purchase prints, click here.
Photos by Steve Ognibene