October 1, 2016 - 7:00am
Photos: Batavia wins Homecoming game 18-8 over Wilson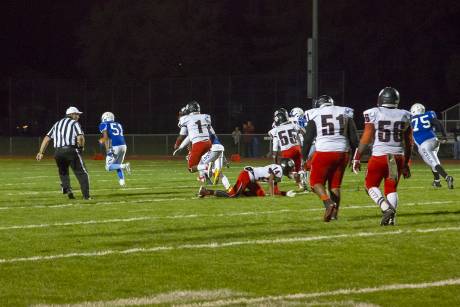 It was a cool misty night at Van Detta Stadium where the Batavia Blue Devils hosted the visiting Wilson Wildcats for their homecoming game. First half was a bit quiet where both teams' offense could not put points on the board until there was only 1:51 left in the second quarter. J'Zon Richardson (pictured above) picked up a fumble and 75-yard-run touchdown to give Batavia the lead 6-0 after two quarters of play; two-wopoint conversion was no good.
Late in the third quarter Ray Leach recovered a fumble with one minute left on the clock and ran 70 yards for a touchdown to increase Batavia's lead to 12-0. No extra points were scored afterward.
In the fourth quarter Cody Dioguardi ran in a 15-yard dash from Jerry Reinhart to increase the lead and secure the win for Batavia, leading 18-0. Extra point was no good.
Wilson put some points back on the board with 51 seconds left in the game. Quarterback James Totten did a lateral pass to Ricky Gamble, who threw a 53-yard touchdown pass to Jervon Johnson. Two-point conversion was good, but time ran out for the Wildcats and Batavia picked up their fifth-straight win.
Ray Leach carried the ball 18 times for 110 yards. Anthony Ray had 11 tackles, four for a loss of yards and one sack on the night.
The Spirit Stick was won by the Senior Class and Quentin Branciforte was named King and Alyssa Juliano was named Queen.
For more photos and to purchase prints click here.