February 19, 2018 - 2:46pm
Photos: Ramparts blank Eagles, McCarthy gets 11th shutout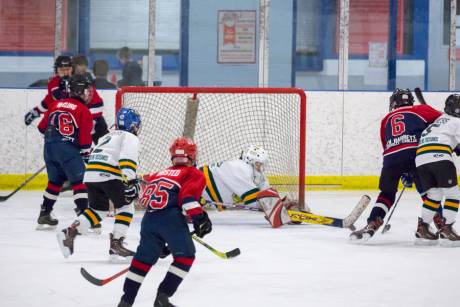 The Empire Hockey Youth Conference 12 and under Peewee Batavia Ramparts beat the Tri-County Golden Eagles of Brockport 7-0 yesterday afternoon at the Faletti Ice Arena on Evans Street in Batavia.
Tyler McClurg and Greg Narburg both led the game with two goals and one assist each.
Also scoring goals were Logan Narburg, Ian Kepple and Preson Tobolski. Justin Valyear had two assists.
Goaltender Robert McCarthy recorded his eighth league shutout between the pipes for the ramparts and 11th overall to finish the regular season.
Empire Conference this weekend is the playoffs are known as play downs. Friday night and Saturday morning games will be played at the Bill Gray's Ice Complex in Rochester.  Saturday afternoon the finals will be at SUNY Brockport.
To purchase or view game photos click here.
For a list of team divisional standings click here.